Copper Box Arena close to announcing boxing deal
Last updated on .From the section Boxing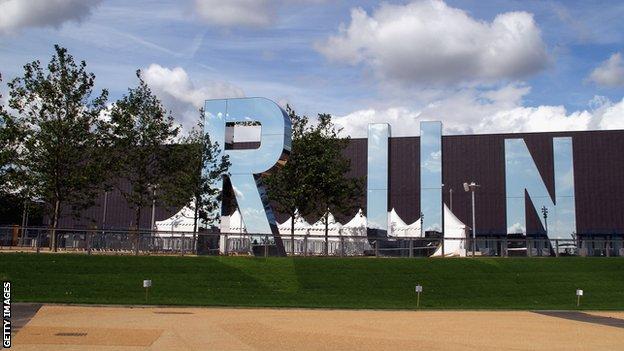 Talks are under way about staging top professional boxing in the Copper Box Arena at London's Olympic Park.
And Peter Bundey of GLL told BBC London: "We are very close to an announcement and we are talking about the potential of world title fights.
"There will certainly be lots of national and European title fights. We are soon to announce a deal with a major promoter. It is exciting times."
The 7,500-capacity arena hosted handball during last summer's Olympics and goalball at the Paralympics and will soon re-open.
British Basketball League side London Lions are set to play their home matches there from August, becoming the first professional sports team to move to the Olympic Park, while badminton's London Grand Prix will also be held at the Copper Box in October.
Eddie Hearn, the managing director of Matchroom Sport, confirmed he was interested in the possibility of staging boxing in the arena.
"We have had a few minor discussions. I think the legacy department are probably keen to speak to a lot of promoters and event organisers to make sure it has a positive uses," Hearn told BBC London 94.9.
"The Olympics were a huge success and there is an amount of attraction to us and the public in re-visiting that area and working in a quality building.
"There is a distinct lack of quality, seated arenas in London at the moment, especially for holding huge boxing events.
"We have already stressed we could potentially bring some boxing to the capital at the Copper Box.
"Certainly from a boxing perspective, it would have potential and it is something we will keep our eye on in the future.
"We are making a commitment in boxing from top to bottom and we look forward to delivering many more big nights.
"We'll see what progresses but we do plan some big fights in London in the future."
The Olympic Park is currently being redeveloped by the London Legacy Development Corporation, with the Copper Box part of the North Park area which is soon to re-open to the general public.
"It will be the first venue to open and it is an iconic venue. It is the flexible venue of the Park; you can run any community event in there and it is suitable for sporting events," Bundey added.
"One of the important things is it faces the community and will rely on participation that is part of the legacy commitment to get more people involved in sport."