Haroon Khan learns from Amir's mistakes before pro debut
Last updated on .From the section Boxing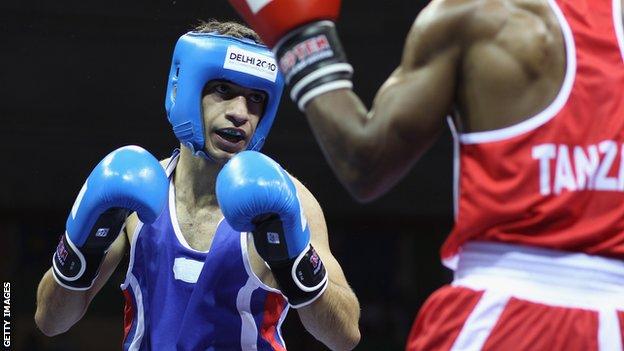 Haroon Khan says he will not make the same mistakes as brother Amir as he prepares for his professional debut in Sheffield on 27 April.
And Haroon says he plans to be less gung-ho than Amir, who has been knocked out twice in a 27-fight pro career.
"We've learned a lot from Amir's career and hopefully we're not going to make the same mistakes," said Haroon.
"You have to be more cautious as a professional. The crowd hypes you up and once you hear that crowd you want to knock the guy out.
"Against Breidis Prescott [when Amir was knocked out after 54 seconds] Amir wanted to go out there and knock him out and he made a mistake.
"And when he went down the first time he got up and started trading again. That's one thing I've learned: if you go down, don't get up and start trading punches, stay on the back foot."
While Haroon says the time was right to make the switch to the paid ranks, his hand was forced by the fact he had fallen out with those that run GB Boxing.
After being left out of the GB performance programme for the London Olympics, Haroon boxed for Pakistan at the 2010 Commonwealth Games and won flyweight bronze.
Haroon will be trained by Salford-based Oliver Harrison, who was in Amir's corner for his first 17 paid fights and guided him to the Commonwealth lightweight title.
The link-up surprised many, given that Amir and Harrison's split was somewhat acrimonious, with Harrison popping up in the opposite corner for his former charge's following fight.
But Haroon explained: "They still speak so when I was looking for a trainer, Amir suggested him.
"We know what Oliver's capable of, he got Amir to a Commonwealth title. It's as if nothing ever happened between Oliver and Amir."
Meanwhile, Haroon revealed that his decision to turn pro did not go down particularly well with his mother, who would have preferred him to be a model.
"After the Commonwealth Games my mum said: 'You don't need to be a boxer, we've already got one boxer in the family.'
"Then she came across some modelling photos and said: 'We've got a model in the family now!'
"I'd done a photoshoot for Selfridges. Amir said: 'Did they not ask me?' I was shooting for 11 hours and thinking: 'Shall I go back to boxing?'"