Steve Collins closer to Roy Jones Jr bout after being given licence
Last updated on .From the section Boxing16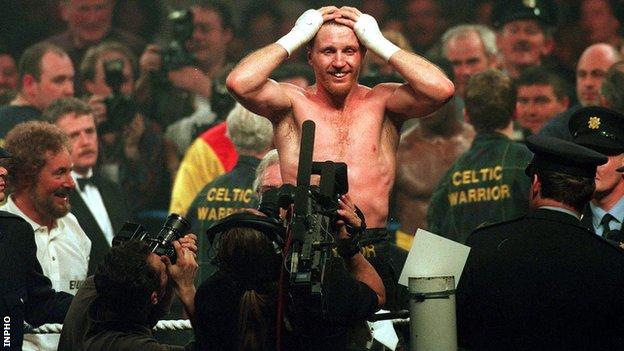 The prospect of veterans and former world champions Roy Jones Jr and Steve Collins fighting appears to have moved a step closer.
Collins, 48, says he has been granted permission to box again after more than 15 years away from the ring.
However, the licence provider has yet to be disclosed and the British Boxing Board of Control told BBC Sport that it had not been approached by Collins.
"I'm not coming back for a payday," said Collins. "This is a grudge match."
Collins, the ex-WBO middleweight and super-middleweight champion, beat British greats Nigel Benn and Chris Eubank twice each and also had memorable contests against other top fighters Mike McCallum and Sumbu Kalambay.
The Irishman told BBC Radio Ulster on Thursday that his career had ended "without the fight I always wanted".
"This fight [against Jones] was supposed to happen 15 years ago but it didn't," added Collins.
"Now it has just come about this year. He's up for it. Otherwise, he was going to retire with people always bringing it up that 'you didn't want to fight Collins'. He wants to remove that before he retires."
Jones, a former four-weight world champion, is now 44 but Collins has denied money was the primary motivation for his desire to get back into the ring.
"There will be money involved [because] Roy Jones has a value on himself," said Collins. "An offer has been made to him for the fight but the money wasn't enough for him."
However, Collins added that negotiations will continue between the two camps and the Dubliner believes that the fight could take place in the Middle East or at an Eastern European venue later this year.
"Roy Jones is going to take the fight. It's confirming the venue and TV. If the money is there the fight will happen. Roy Jones wants paying. We are getting closer," added the Irishman.
Collins has been told that Jones is due in the UK next month for promotional appearances and that two veteran fighters may hold talks during the American's visit.
Jones won world titles at middleweight, super-middleweight, light-heavyweight and heavyweight.
He became the first former middleweight world champion to win a world heavyweight crown in 106 years when he beat John Ruiz in 2003.
However, Jones has shown alarming signs of decline in recent years, losing seven of his last 14 fights having lost only one of his first 50, and that on a disqualification.