From Balco to boxing: a sport on the ropes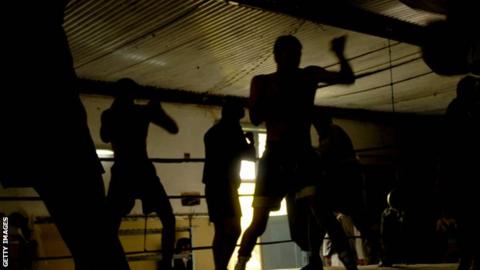 Can people ever really change?
It is a question that has taxed criminologists, philosophers and wronged partners for centuries, and it is one boxing fans should be asking themselves right now, because the sweet science is in thrall to two men who almost destroyed athletics.
Victor Conte and Angel Heredia were rival drug-dealers a decade ago, plying their cynical trade on the margins of the US Olympic scene.
Conte's cocktails of untraceable performance-enhancing substances fuelled sprinters Marion Jones, Tim Montgomery and Britain's Dwain Chambers to global fame, only for his Bay Area Laboratory Co-Operative (Balco) conspiracy to come crashing down in 2003.
The cause of his downfall was the anonymous delivery of a syringe containing traces of the bespoke steroid tetrahydrogestrinone, aka "The Clear", to the United States Anti-Doping Agency (Usada). It was Conte's premium product, and its very existence came as news to the testers.
That syringe was sent to Usada by the coach of a rival group of sprinters, Trevor Graham, who was fed up with watching his athletes being beaten by the Balco gang. The reason he knew they must have been cheating is because his athletes were cheating too.
Graham got his comeuppance five years later in 2008, when a by-now-rumbled Heredia acted as the US government's star witness in a perjury trial. The Jamaican-born coach was eventually given a relatively mild sentence, largely because the jury was unimpressed with the prosecution's "true devil" of a witness.
"The past is the past, but it will always follow me," Heredia told me from Las Vegas earlier this month.
"I helped the anti-doping authorities, and a lot of anti-doping protocols have been established because of my help, but I don't shout about it.
"I've made mistakes, but I've done more good than bad."
The 38-year-old Mexican was talking to me in between jobs in his current line of work: strength and conditioning coach to the world's best boxers.
His previous gig had been helping American light-welterweight Brandon Rios to prepare for his rematch with Mike Alvarado. Their first fight had been one of the fights of 2012, Rios winning in seven savage rounds.
He lost the second fight last month, but nobody blamed Heredia, his boy looked like he had been sculpted out of granite.
In fact, Heredia has not been short of job offers ever since his star pupil Juan Manuel Marquez flattened one of the greatest of all-time, Manny Pacquiao in a brutal contest in December. It was their fourth meeting, Marquez's first win and Pacquiao's first knock-out defeat for 13 years.
It did not take fans, pundits and rivals long to start speculating about the provenance of Marquez's newfound power - the Mexican had never so much as wobbled Pacquiao before. The reaction in the Philippines, Pacquiao's homeland, was almost hysterical, but it was not much calmer in the US.
Marquez simply denied all accusations of doping, saying "I'm a clean fighter", and his fans pointed out that Pacquiao had put on a lot of muscle during his transition from an undersized strawweight at 16, to a chiselled welterweight at 34, a difference of about 50lbs, or three-and-a-half stone.
Heredia's journey is equally remarkable.
Once his own athletics career reached the limits of his ability, Heredia combined his US college education in kinesiology (the study of human movement), with family connections in the Mexican pharmaceutical industry - if that sounds like a euphemism, it soon became one for "Memo" when he started to ship banned drugs to athletes throughout America.
In a notorious 2008 interview with German magazine Der Spiegel Heredia outlined the extent of his business, naming a generation of American sprinters in the process, and said "peak performances without doping are a fairy tale".
But being picked up by the FBI during their Graham investigation brought this chapter to an end for Heredia. Between late 2008 and early 2011, the only public mention of his name is as a witness in four anti-doping tribunals against former clients in 2010. According to Usada, that is the last involvement he has had with the agency.
Heredia is nothing if not resilient, though, and in 2011 he was back, helping Mexican boxer Jorge Arce to a WBO title. He now claims to have worked with eight world champions, but will not name them all.
"I've got a bright mind and a science degree, so I've got things to offer," he explained.
"I've used my degree and my knowledge to develop a strength-and-conditioning programme for boxing. I use whatever tool I have that is legit - I do nothing that is illegal."
Marquez, Rios and every other boxer that has admitted to working with Heredia has made the same claim.
"We do a lot of weight training - some very specific lifting - and we do altitude training," Heredia added.
"I used to use (banned blood-boosting drug) EPO; now it's altitude. I also use nutrition and legal supplements to enhance certain hormones and amino acids.
"There was a lot of ignorance in boxing. Marquez had never lifted weights before. He just ran and hit the bag. But the science has evolved, boxing should too."
Heredia says he has evolved as well, finding God and becoming a father. He insists his doping days are behind him, and now he could perhaps "be a bridge" between the anti-doping authorities and boxing, a sport he acknowledges needs to do more testing.
But others are not convinced about his transformation, none more so than Conte.
As dealers on different sides in track and field's dirtiest decade, the two men were never going to be friends, but their animosity has deepened since their re-emergence in boxing.
This hostility is played out most days on twitter, with Conte repeatedly accusing Heredia of doping his athletes and lying about his past.
"I strongly believe he is still a dope man," Conte told me last week, although there is no actual evidence to base this on.
"Memo knows I'm clean because all of my boxers are doing random blood and urine testing."
"I'm operating out in the open. Memo has been operating in the shadows with none of his boxers doing random testing. See the difference?"
Conte, who has been providing fitness and nutrition advice to Britain's Amir Khan ahead of his next fight in Sheffield later this month, certainly appears to be a reformed character since serving a four-month prison term for distributing steroids and money laundering in 2005.
He has discussed anti-doping strategies with former World Anti-Doping Agency (Wada) boss Dick Pound, become an outspoken media pundit on the subject, and helped set up the Voluntary Anti-Doping Agency (Vada), a Wada-lite for the worlds of boxing and mixed martial arts.
Even Heredia admitted Conte was probably clean. That does not mean he trusts him, though.
"This thing with Conte? It's just competition," Heredia said. "I beat him badly at track and now he feels I'm taking the spotlight away from him again.
"He's jealous, just a crazy old man. I'm a different person now.
"I don't doubt he's clean now, everybody can change, but he has personal interest in Vada. I don't trust Vada."
I put this to Dr Margaret Goodman, the president of the Las Vegas-based Vada, and the response was withering.
"Mr Heredia has made several blatantly false statements regarding Vada," she said, categorically denying that her agency had ever paid Conte or given him an official role.
"I am disappointed that Mr Heredia, who has never contacted Vada, is choosing to spread defamatory information regarding Vada for self-serving purposes."
Conte's usual reply to his rival's dismissal of Vada as a credible testing agency is to challenge him to use Usada. Or the Canadian equivalent for next month's light-heavyweight clash between Heredia's man, Jean Pascal, and Lucian Bute, in Montreal.
But after much haggling between the camps, there is still no agreement on how much, if any, testing will take place in the build-up to the biggest fight in Canada for more than 30 years.
Heredia hits back with the observation that none of his fighters has ever failed a drugs test, whereas Andre Berto, one of Conte's, has.
Conte says this happened when Berto left his supervision - something the boxer has publicly acknowledged - but you worry about boxing's already wounded reputation amid all this sniping.
The rise of mixed martial arts and the unstoppable juggernaut of American football have combined to leave boxing in America, still the sport's most important market, wobbling on the ropes. It simply cannot afford much more scandal.
Can people ever really change? Boxing better hope so.