Olympic champion Luke Campbell to make professional debut in Hull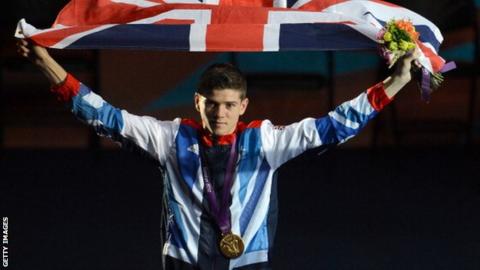 Olympic champion Luke Campbell's first fight as a professional will be as the headline attraction at an open-air show in his home city of Hull in July.
The KC Stadium and Craven Park, home of rugby league's Hull Kingston Rovers, are promoter Eddie Hearn's options.
Campbell is the most decorated amateur boxer in British history, with Olympic and European titles and a world silver.
"I've done everything as an amateur and that period was always a stepping stone," the 25-year-old told BBC Sport.
"My dream as a young boy was to be world champion as a professional boxer. I know it's going to be tough road ahead but I'm ready and working hard and can make this dream come true," he added.
Campbell has not boxed since winning gold in London last summer and to many non-boxing fans he will be more recognisable as the man who came third in the latest series of ITV's Dancing On Ice.
And it is this cross-over appeal that Hearn hopes to tap into, beginning with the hugely ambitious debut show in Hull, planned for either 6 or 13 July.
"The performances he put in to win that Olympic title, under the pressure of being at home, were unbelievable," Hearn told BBC Sport.
"He was hardly ever in a close fight, he won the gold medal with ease.
"Then you look at the appeal that he has, not just in his home city of Hull, but all over the country because of the coverage he received at the Olympics and being on Dancing On Ice.
"I haven't seen a fighter as popular in his home city since Ricky Hatton. And it's so diverse, from young children to old ladies to middle-aged men. That leads me to believe he's going to have a huge fan base.
"If you don't live the dream how can you sell it? We believe this is going to work - 20,000 turned up just at Hull City Hall to see him wave his gold medal."
Campbell said other promoters were keen for his signature, including premier American outfit Golden Boy, but that Hearn's deal with Sky Sports was the clincher.
"If I'm capable of getting to the top, these are the guys who are going to get me there," said Campbell, who won bantamweight gold in London but plans to fight as a super-featherweight or lightweight as a pro.
"Boxing is about being entertaining and I want to entertain the fans with great shows. Something like this has never been done before, an open-air stadium for a professional debut, with 20,000 seats. It's going to be a brilliant event."
Meanwhile, Campbell admitted it would be something of a relief to be able to demonstrate to the British public the trade he is actually trained in.
"An old lady came up to me recently and said: 'My friend said you got to the Dancing On Ice final so I'd just like to shake your hand and say well done.'
"I said to her: 'I'd rather you came up to me and said well done on becoming an Olympic champion!' It's great to have all these new fans, but my passion lies in boxing. This is the sport I love and the sport I want to be the best at."
Meanwhile, Hearn admitted his Matchroom was getting to its "maximum capacity" and that he would soon be "shutting up shop".
Campbell follows WBO lightweight champion Ricky Burns, unbeaten super-middleweight George Groves and British and Commonwealth featherweight champion Lee Selby in joining Hearn's team.
"Perhaps we'll sign one or two more in the next two or three weeks. At the moment we can deliver on all our promises to our fighters and I won't sign a fighter if I can't. At the moment everything's great, everything's rosy."