Iain Weaver ready for professional debut at York Hall
Last updated on .From the section Boxing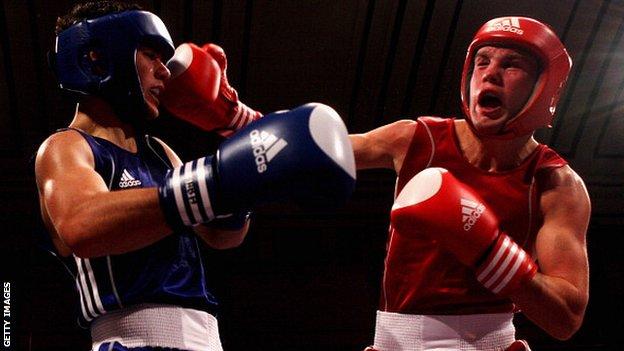 Former Great Britain amateur super-featherweight Iain Weaver says he is ready to unleash months of frustration when he makes his professional debut.
Weaver, 23, will appear on Saturday's bill at Bethnal Green's York Hall.
"I feel in great shape and cannot wait to get back in there and do what I do best," said the Ferndown fighter.
Weaver has still to be issued with a British licence but is able to fight because the York Hall show is sanctioned by the Luxembourg Boxing Federation.
During a routine medical last year, a scan revealed he had a cyst on his brain. Despite being cleared to box by two independent specialists, the BBB ofC's medical panel will not give him permission to fight.
Southpaw Weaver, who last fought as an amateur in February 2012, said he never once thought about quitting.
"It's been a struggle to get to this point," said Weaver, who won a silver medal at the 2010 European Amateur Championships in Moscow.
"The British board have been hard work to be honest. I never thought about quitting because it's all I've ever done and all I've ever known since I was a young boy.
"But it's definitely been a struggle and there were times where I wished I picked another sport."
Weaver fought twice as an amateur at the famous York Hall, losing both times, notably to Joe Cordina at the GB Championships in November 2011, but says there is no place he would rather make his pro debut.
"Training has gone brilliant, sparring has gone well and it can't come quick enough," he said.
He will take part in a contest of four three-minute rounds but is yet to find out who is opponent will be after Hungarian Roland Mohacsi pulled out.
After seeing his fellow former GB team-mates such as Tom Stalker, Khalid Yafai and Callum Smith turn pro, Weaver says he is looking forward to having a chance to step into the limelight.
"I've been watching all the boys doing really well," he added. "I've been envious in a way because I was at their level as an amateur and training with them every day.
"I'm happy for them, I wish them all the best but I want to be doing what they are doing and making a name for myself now."