Amir Khan defends involvement of drugs cheat Victor Conte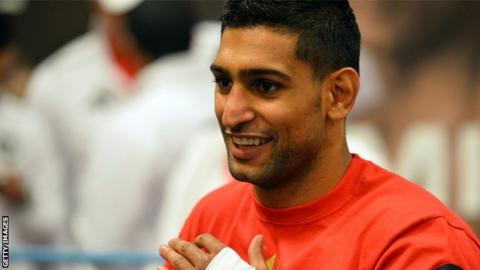 Great Britain's Amir Khan has defended his involvement with drugs cheat Victor Conte ahead of Saturday's fight with Mexico's Julio Diaz in Sheffield.
Conte, who was was jailed in 2005 after pleading guilty to conspiracy to distribute banned steroids, is working as part of Khan's backroom team.
"The advice he's been giving me has been brilliant," said Khan, who added the Conte link-up was not his idea.
"I know he's had a bad background and has done things he shouldn't have."
UK Anti-Doping (UKAD) strongly criticised Conte being part of Khan's coaching team at the weekend after the American was introduced to the Bolton boxer by his new trainer Virgil Hunter.
But, ahead of his first fight in Britain for two years, the 26-year-old, who insists he only took his sponsor's brand of supplements, said Conte has brought a lot to his training.
Khan said: "Virgil Hunter is my trainer and he's the one who's told me we are going to use Victor Conte as an assistant in a way, as he has a team of trainers who can teach you stuff.
"On the training methods he's brought so much good training into the game. He's introduced me to a lot of new trainers who have helped me on my running, sprinting, on my engine really, which is working my fitness, also breathing methods and telling me what to do and what not to do.
"I never wanted to argue with Virgil. He's the one who brought him onto the team. I didn't really want to cause a big scene. I told Virgil and he said 'look, if anybody's got a problem with it, come and tell them to talk to me'.
"He's the boss and I have to listen to what he says. He's the one who's advising me to work with Victor and I have to listen to what he says."
Conte was at the centre of the Balco doping scandal in which Olympic sprinters Dwain Chambers and Marion Jones were implicated.
He served a four-month prison sentence for his actions and is now an anti-drug campaigner who works with both the world and US anti-doping agencies in a bid to clean up sport.
"UK Anti-Doping strongly advises athletes to consider the risks of working with those who have actively supported doping in the past," a UKAD spokesperson said. "UKAD believes it is preferable to be supported and train in a clean sport culture where the values of sport are promoted and upheld."
Khan lost his world titles in a controversial defeat by Lamont Peterson in December 2011 and was then beaten by Danny Garcia in a WBC super-lightweight title fight last year, but believes victory on Saturday would put him back into world title contention.