Greenock boxer John Simpson still dreams of world title shot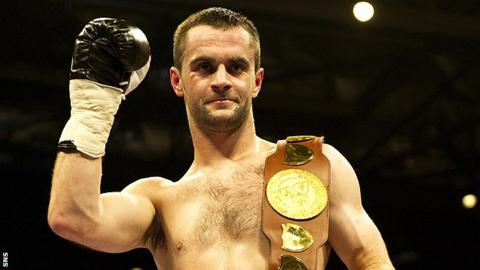 The timing buzzer can be heard from outside the red-brick former Salvation Army hall that houses Greenock Amateur Boxing Club.
When you venture inside, men, women and boys are engrossed in the serious business of press-ups, shadow boxing and slamming into the heavy bags.
The sound of the buzzer brings 60 seconds of relief before the group re-engage with their physical activities.
In charge of all of this is one of the busiest men in Scottish boxing, trainer Danny Lee.
He holds down a full-time job away from the sport and spends evenings and weekends within it, at his club and with Scottish Amateur Boxing's development squads.
In the Greenock club, it helps when there's a former Olympic boxer on hand, but Danny Lee senior, 73, who fought at the 1960 Games, is too modest to share any stories of his efforts for Great Britain.
If he met Cassius Clay over in Rome, he's not for telling.
Instead, there are gloves to be laced, promising youngsters to be encouraged and an amateur show in the town hall to be arranged.
Together, Danny Lee and his dad are as steeped in boxing as a corner man's sponge.
The pair are rightly proud of the club's most famous fighter, John Simpson, who faces Mongolia's Choi Tseveenpurev on the undercard of Ricky Burns' WBO lightweight title defence on 11 May in Glasgow's Emirates Arena.
"This is about the best John has been prepared," says Lee junior. "His weight is spot on.
"We have been watching footage of Choi. He is a very, very strong guy but we reckon we have seen a few flaws in his armour that we can exploit.
"I feel he could stop Choi - no-one has ever stopped him before. This is a great opportunity for John."
Lee senior rates Simpson highly. He believes he could have been a world champion by now but thinks it's still a realistic target.
Simpson, 29, has won and lost British and Commonwealth titles at featherweight. His career record of 24 wins and nine losses suggests highs and lows: that would be a fair summary.
He first fought for the British strap in 2004 but lost to Dazzo Williams. He avenged an earlier defeat by Andy Morris to eventually lift the title in London in 2006 and successfully defended it a few times before losing to fellow Scot Paul Appleby two years later.
But he is not a man who takes defeat lightly. He fought his way back to win the Commonwealth title in January 2009 against Paul Truscott and came through two defences before Liverpool's Stephen Smith edged a close encounter in Glasgow in 2010.
Three months later he beat Martin Lindsay in Belfast to regain the British title. Fast forward another four months and old adversary Smith snatched that one from him too.
When Lee Selby thudded a punch into his ribs 16 months ago it was the first time he had been stopped and signalled the end of his time at featherweight.
However, by increasing his fighting weight by 4lb to box at super-featherweight, Simpson feels stronger.
Having stopped his last two opponents - Appleby and Dai Davies - he is confident ahead of his bout for the vacant WBO Inter-Continental title against Manchester based 41-year-old Tseveenpurev.
"They were a big boost," says Simpson of that brace of victories.
"Paul was a good British champion at featherweight. He had beaten me before. I knocked him down twice in the fifth round.
"I've not got many stoppages so it was good to get two back to back.
"I am working with a strength and conditioning coach, Andy Armour, which has been going well, so I've got a lot more power and the weight issue isn't a problem now."
Tseveenpurev has won 36 of his 42 bouts and Simpson, though 12 years his junior, is taking nothing for granted.
He said: "He's got a good knockout ratio. He has stopped 24 or 25 of his opponents. He has won the Prizefighter and fought for a world title.
"He's getting on in age but he keeps himself in good shape so I am not expecting an easy fight at all.
"I think it is going to be one of my harder fights.
"But I've heard he has been tiring in the last minute of each round.
"I'll train for the 12 rounds. I'll be ready for whatever he flings at me."
Tseveenpurev has a penchant for wearing furry Mongolian hats in the ring. Simpson's only extravagance is to have his sons' names embroidered on his shorts.
With two weeks until the bout he is relaxed after sparring sessions with Michael Roberts, Joe Ham and Robbie McKechnie.
So, with his guard down, would he allow himself to dream of winning major titles in his 30s?
"With Choi's knockout ratio I can't take anything for granted," says Simpson, who reveals that he is mandatory challenger for the British title.
"He punches really hard with both hands, he is strong, he doesn't come in to mess about.
"I'm not overlooking Choi but it would be great if I could get a world title shot. That would be the ultimate goal."