Anthony Ogogo begins professional career with victory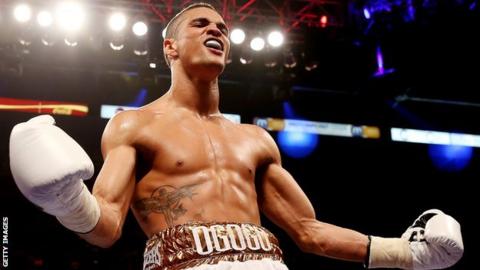 British Olympic medallist Anthony Ogogo started his professional career with a second-round knockout of Kieron Gray.
The 24-year-old Lowestoft middleweight, who won a bronze medal at London 2012, landed a firm right hook to put down Telford's Gray.
Gray, 35, beat the count but the referee deemed him unfit to continue.
"That was phenomenal. The frustrating thing is the referee called it off because I would have happily gone the six rounds," Ogogo told BBC Sport.
"We thought we were going to get six rounds out of him and I could learn, but I'm not going to complain.
"It was really enjoyable. I was really nervous. It's the best part of a year since I last boxed. It was nice to be doing what I love doing.
"It was quite daunting boxing without a head guard. I was looking around, thinking 'when are they going to put my head guard on?'"
This debut fight was designed to ease Ogogo into the spotlight, with Gray having failed to win any of his previous 14 bouts and lacking a success since 2009.
And while the calibre of his opponent will make it difficult to gauge just how impressive this victory was, Ogogo showed enough to back up his decision to quit the amateur ranks.
Aggressive from the bell, the man from Suffolk displayed quick hands and relentless combinations.
Ogogo, who has said he wants to become one of Britain's greatest ever middleweights, showed few first-fight nerves, and did not stop spraying jabs on to Gray, who was more content with focusing on hitting Ogogo's body.
But Ogogo absorbed the blows and had the fight wrapped up just two minutes into the second round when he followed up a sharp right hook with a quick second to make the perfect start to his career as a professional.
"Everyone's wary of the unknown and that was the unknown for me," Ogogo added. "Luckily the excitement took over.
"I think he was quite surprised by my power. He tried to rough me up and bully me, but when he met my jabs and right hands he must have thought he didn't want to do this."
Haroon Khan, younger brother of Amir, also made a winning professional debut - but was made to work hard by Staffordshire's Brett Fidoe.
Fidoe came into the super-flyweight fight with one win and two defeats to his name but stiffened Khan with a big right hand in the third round.
But Khan rallied and was awarded the fight 40-37 on the judges' scorecards.