Floyd Mayweather: Jail will not affect champion against Guerrero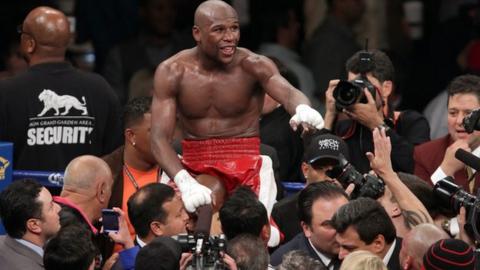 Floyd Mayweather says his year out of the ring will have no effect on his WBC welterweight title defence against Robert Guerrero on Saturday.
The unbeaten American has spent two months in prison for domestic abuse since his last fight in May 2012.
"I feel unbeatable. I'm not going into a fight thinking I'm beatable," said the 36-year-old.
"My main focus is to win. I'm always going to control the tempo of any fight because of my experience."
Mayweather, who has gone 43 professional fights without defeat, won a unanimous points decision over Miguel Cotto last time out.
"I'm in this sport to go down as the best, and to do what I feel capable of doing," he added.
"You don't get to the pinnacle by not facing and fighting the best competition. I beat everybody in the 90s and I beat everybody in the 2000s, and here I still am 17 years later."
Californian Guerrero has a record of 31 wins from 35 fights including a solitary loss to Gamaliel Diaz in a featherweight fight in 2006.
"You get a lot of people out there that think Floyd's like a god, that's he's unstoppable and there's no blueprint to beat him," said the 30-year-old.
"But being a big believer in God, there's a blueprint for everybody. There's a way to conquer anything.
"This is the moment, with a guy that nobody thinks can be beaten, saying he's unstoppable and the best ever. God's put me in this position for a reason and he's groomed me to take over in boxing."