Manny Pacquiao to face Brandon Rios in Macau in November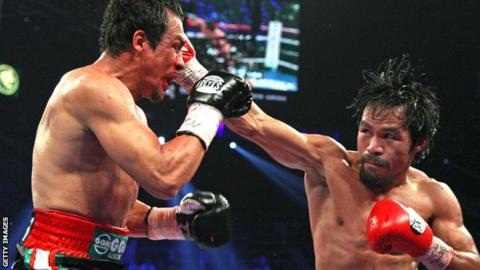 Manny Pacquiao will return to the ring after an 11-month absence when he faces Brandon Rios in Macau on 24 November.
Former seven-weight world champion Pacquiao, once rated as the best pound for pound boxer in the world, was knocked out in the sixth round by Juan Manuel Marquez in December.
In his previous fight the Philippines boxer lost his WBO welterweight title to Tim Bradley in June 2012.
Pacquiao is not fighting in the United States for tax reasons.
"People know what Rios brings to the table," Pacquiao's promoter Bob Arum told ESPN.com.
"People want to see a real fight, and that is what you get with Rios. We're building a business in Macau and China and these are the kinds of fights - real action fights - that they want to see."
Former WBA lightweight champion Rios, 27, lost to Mike Alvarado at light-welterweight in his most recent bout in March.