Jamie McDonnell does not fear Julio Ceja's KO record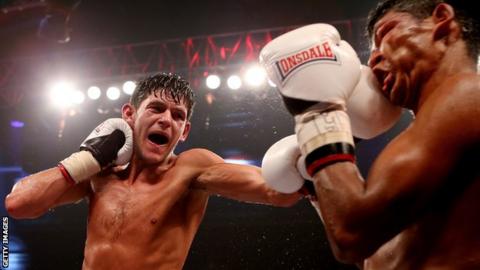 Jamie McDonnell says he is not intimidated by Julio Ceja's knockout record ahead of their world bantamweight title fight on Saturday.
Mexican Ceja boasts 22 knockouts in his 24 fights - all of which he has won.
Doncaster-based McDonnell, 27, has nine stoppages in his 22 fight career that includes two defeats.
"I did an interview with Mexican television and I told them that their kid's got an impressive record but he's not been tested," said McDonnell.
"I think I've been tested, served my apprenticeship and worked my way up there."
"This young kid has been handed a lot on a plate, although he's got the perfect record which helps sell the fight," added McDonnell, ahead of the bout at Doncaster's Keepmoat Stadium.
"I tower above him so I'll use the gameplan to move and keep him at bay and I think I'll look good in this fight.
"This kid's got a good record but records are for DJs.
"I do believe I'm going to dust him and after six rounds it's my fight and I'm going to stop him. As long as I don't get caught with daft shots then I'll be all right."