Lee Purdy lasts seven rounds against Devon Alexander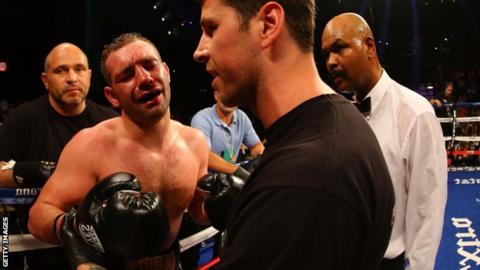 Welterweight Lee Purdy was pulled out after seven rounds of his non-title bout against IBF world champion Devon Alexander in Atlantic City, New Jersey.
The Colchester fighter's trainer threw in the towel after his US southpaw opponent dominated from the start.
"I was gutted [about being pulled out]. But I have to respect my corner's decision," said 25-year-old Purdy.
Anthony Ogogo, who won Olympic bronze for Great Britain at London 2012, beat Edgar Perez on points over six rounds.
Both Purdy and Ogogo were on a bill topped by Lamont Peterson's meeting with Lucas Matthysse.
Argentina's Matthysse stopped Peterson in round three, knocking the American down once in the second round and twice more in the third with left hooks.
In December 2011 Peterson controversially stripped Britain's Amir Khan of his WBA and IBF world titles when he won on points.
Matthysse, who has won 34 of his 36 fights, is now expected to face unbeaten WBA and WBC light welterweight champion Danny Garcia later this year, with the winner likely to meet Khan.
"Now I know I'm the best at 140 pounds because nobody had ever dominated Peterson the way I did today," said Matthysse.
Admitting he had been well-beaten, Peterson said: "He won the fight fair and square - I have no complaints."
Meanwhile, Haroon Khan - Amir's brother - made his US debut along with Ogogo, taking 57 seconds to despatch American Vincente Medellin.
Fighting outside the UK for the first time, Purdy was a late replacement for Sheffield-based Kell Brook, who withdrew because of a foot injury.
Alexander, 26, landed numerous heavy blows despite hurting his left hand in the opening round.
"I'd have stayed in there till the end, without doubt. I live to fight another day, but I'm devastated at the moment," Purdy added.
"I knew the weight, I knew the fitness... I knew everything was going to be an uphill struggle but it was something I couldn't turn down - fighting a world-class fighter.
"I just couldn't get in my groove tonight. The better man won on the night."
Alexander has now won 25 of his 26 fights, 14 by knockout, while this was the fourth defeat of Purdy's 25-fight career.
Purdy's stand-in trainer Darren Barker, who made the call to stop the fight in the absence of regular cornerman Tony Simms, said: "He's one of my good friends. I'm thinking of his interests.
"Why would I want him to get dragged out of there? He's a young man with a big future ahead of him. He put in a fantastic effort - you've just found out what Lee's all about.
"But this is a sport - you've got to think of his health, first and foremost. He's in there with a great champion and he did us all so proud."
The bout was made a non-title encounter after Purdy narrowly failed to make the 147-pound weight limit on Friday.