Audley Harrison announces U-turn on retirement plans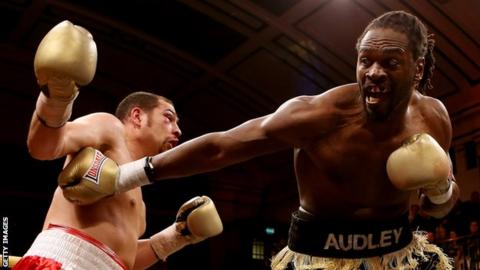 Olympic gold medallist Audley Harrison has reversed his decision to retire.
The 41-year-old heavyweight had announced the end of his professional career earlier this month after he was knocked out by American Deontay Wilder.
Harrison had ended his career with seven defeats in 38 fights since winning gold in Sydney in 2000.
A statement on Harrison's website read: "As days passed, I knew I wouldn't be able to live with the decision. Seeing my son born crystallized my decision."
Harrison's wife, Rachel, gave birth to Hudson Hugh Harrison on Thursday and the boxer said becoming a father has heavily influenced his decision to return to the ring.
"When I made the tough decision to walk away from boxing, I knew it was not going to be easy," added Harrison.
"There is no way I am going to tell my son 'I gave up because I didn't want to climb the mountain again, I didn't want to dust myself off again, when I'm now in the best shape of my career, doing things I haven't done for years, and back in love with the sport'. How can I retire when I know I have another shot in me?
"If I don't get up and try again, everything I've stood for would mean nothing.
"Setbacks pave the way for comebacks. I believe it so I have to live it and go again."
Harrison became the first British fighter to clinch an Olympic title in the super-heavyweight division but failed to build on that promise in the professional ranks.
The Londoner first challenged for the world title against David Haye in 2010 but suffered a third-round defeat.
Harrison was knocked out by Wilder in Sheffield after just 70 seconds, although his career looked to be over last October when he was knocked out in the first round by fellow Brit David Price.
But he won a Prizefighter tournament in February to keep alive his dream of one day winning a heavyweight world title.
"I can't walk away with that performance," added Harrison of the Wilder defeat.
"If I do it would haunt me until I'm old and grey. I got up, they should have let him come to finish me and let me show what I got.
"People who worry I may get hurt, I thank you for your concerns. We live in a free society and my desire for freedom and autonomy is my universal right."