Anthony Ogogo expects homecoming fight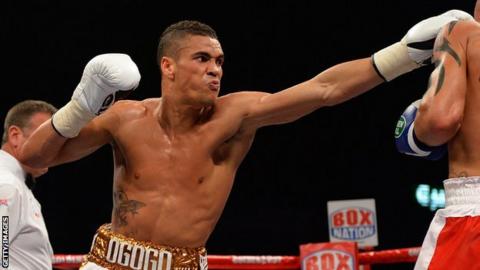 Lowestoft's Olympic bronze medallist Anthony Ogogo is expecting to fight in front of an East Anglian crowd before the end of the year.
The 24-year-old his second professional fight.
"I can't wait to box for everyone who has supported me so well in the last couple of years. It will be a dream come true," he told BBC Radio Suffolk.
"We're looking to put a show on at the end of the year in East Anglia."
Brought up near the border of Suffolk and Norfolk, middleweight Ogogo draws support from both counties and had a strong following at his professional debut in Sheffield last month when he
The former Norwich City academy footballer has previously spoken of his desire to fight at the Canaries' Carrow Road home.
"Obviously I can't sell out football stadiums yet, so at the moment I'd like to think I could sell a few thousand tickets," added Ogogo.
"It's [promoter] Golden Boy's job to find the venue and sort out the specifics."
Ogogo, who is likely to fight again in July, signed with 10-time world champion Oscar De La Hoya's Golden Boy Promotions in December and the company gave him an American debut on Saturday.
The Briton was taken the full six rounds by Puerto Rican Perez, but won on points, despite competing for much of the fight with an injured hand.
"I thought I might have broken it, but it's just swelling," he said.