Carl Froch v Mikkel Kessler: Big names give their predictions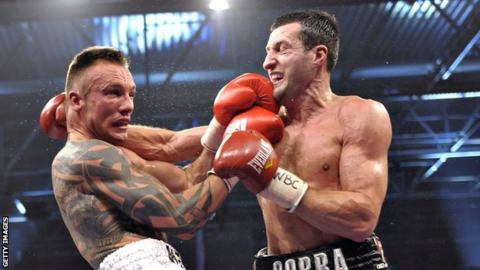 Carl Froch v Mikkel Kessler
Venue:

O2 Arena, London

Date:

Saturday, 25 May

Coverage:

Live commentary on BBC Radio 5 live from 23:00 BST and live text commentary, including the build-up and undercard fights, on the BBC Sport website, mobiles and app.
Nottingham's Carl Froch defends his IBF super-middleweight title against old foe Mikkel Kessler at London's O2 Arena on Saturday - and the Englishman is out for revenge.
Froch, 35, was outpointed by the 34-year-old Dane when they fought in Copenhagen in 2010 but is convinced that this time it will be different.
It's a fight that everyone seems to have an opinion on. Below is a round-up of how some of boxing's biggest names think the fight will pan out.
Andre Ward, WBC & WBA super-middleweight champion - beat Kessler in 2009, Froch in 2011
"Froch has been in some tough fights but he has more in the tank. Kessler has dipped a little bit since he and I fought, and even since he fought Froch the first time. It's going to be a tough fight, it's going to be back and forth, but I can't see Kessler winning.
"Kessler's last two performances, he hasn't fought the best guys - a shop-worn Allan Green then Brian Magee, who's very tough but limited - so he's going to look good against them. I don't know if he has the same fire as when he fought Froch the first time. I wouldn't be surprised if Froch stopped him."
Joe Calzaghe, former undefeated and undisputed super-middle and light-heavyweight world champion - beat Kessler in 2007
"I don't think Kessler is the fighter he was when I beat him. He's become a lot slower on his feet, he's a lot easier to hit, he's had troubles with injuries and he's been inactive. Fighting at home is a massive advantage for Froch as well.
"Froch has aged a bit better than Kessler. Kessler isn't as mobile as he used to be and I've noticed he doesn't move his head like he used to.
"He's flat-footed and that suits Froch because he doesn't like movers, he likes people right in front of him so he can unload his punches. Kessler is still a warrior but if I have to vote for one of them, I'd have to go with Froch."
Bernard Hopkins, two-weight world champion and current IBF light-heavyweight champion - wants to fight the winner of Froch-Kessler
"It will be a tug of war, back and forth, but Froch will use his grit, intelligence and speed to take over the fight. Froch is more of a complete fighter than Kessler so I am going for him.
"Kessler has not been too active and I don't think he has got better over the last two or three fights, or even two or three years. It is going to be an exciting fight but Froch is going to win, and I don't think it's going to be close, either. Froch is going to win by at least eight rounds out of the 12."
David Haye, former two-weight world champion
"You never know if someone's the same fighter as he was until he fights the same guy again. Against Lucian Bute, it looked like Carl was a better fighter than before - but Kessler's not Bute.
Carl won't be anticipating a first-round knockout; he's not stupid. He knows it's life and death in there and he's going to have to be on his A game, 100%.
"It's going to be a tough fight but you've got to go with Froch on points. It will be exactly the same fight as last time - but last time it was in Copenhagen and now it's in England, which is why Carl will get the nod, pipping Kessler on points. Carl's preparation has been bang on and that will give him the edge."
Ricky Hatton, former two-weight world champion
"It's going to be another sensational contest because Carl likes to have a fight and Kessler likes to have a fight. But I honestly do believe that Carl is a better fighter than when they fought the first time - he's got better with age.
"Against Lucian Bute his confidence allowed him to roar through it and he'll want to avenge his defeat by Kessler so much. It will be another close fight, but Carl will win another barnstormer."
Martin Murray, former two-time middleweight world title challenger
"I think Froch is going to win. I hope he does Kessler early but I can't see that happening - I think it's going to be a war like the first one. The difference is that Froch is going to come out on top this time.
"Froch has improved that little bit more since their first fight and he wants it more because he's going to want to impress, fighting in his own country. He'll have that little bit too much for Kessler."
John H Stracey, former WBC welterweight champion
"It will be very close again, extremely close, but I think Froch may just get it. He just seems to be more powerful than when he last fought Kessler and he's punching harder. When you've had as many world title fights as he's had, you suddenly start getting into that mode.
"What with the Lucian Bute fight and his last fight, his confidence is sky high and he's not looking at anything else other than a victory, which he'll get."
Chris Eubank, former WBO middleweight and super-middleweight champion
"Froch has integrity as a fighter which means that he will go all the way. I think it's fair to say that he's willing to give his life.
"When you fight the same man twice, you guess you know how to beat him. Sometimes you take your foot off the pedal, in terms of training. Kessler may be too relaxed, whereas that fire would have intensified in Froch simply because he hadn't achieved the objective and wants a natural type of revenge."
Richie Woodhall, former WBC super-middleweight champion
"Froch has improved since the first Kessler fight and mentally he's stronger than last time they fought. Kessler is going to be walking into a cauldron on Froch's home soil - it's going to be ferocious. And when Froch lands this time it will lift the roof, and those close rounds will go to Froch instead of Kessler.
"Carl's got to box from the centre of the ring and push Kessler back, be the bully, because Kessler isn't half the fighter going backwards as he is going forwards. There's only one winner, and that's Carl Froch. It wouldn't surprise me if Froch gets a stoppage late on."
Adam Booth, trainer of David Haye and Froch's domestic rival George Groves
"I'll have my paracetamol ready while I'm watching this one - it's going to be a war. I'm sitting on the fence: it's a 50-50 fight for me, and I can think of reasons for both fighters to win it. And I don't think home advantage will matter.
"Carl's had some good wins since the first fight and he's more experienced, but I'm not sure he's a better fighter. I know Kessler was expected to beat Brian Magee but he looked really happy and healthy, like a man who had taken a break and got back all his energy and desire. That will even out the hard fights and good wins Carl's had recently."