Carl Froch v Mikkel Kessler: Expect a thrilling rematch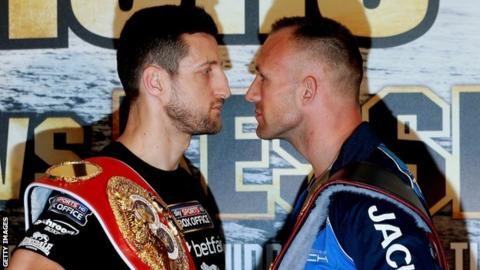 Carl Froch v Mikkel Kessler
Venue:

O2 Arena, London

Date:

Saturday, 25 May

Coverage:

Live commentary on BBC Radio 5 live from 23:00 BST and live text commentary, including the build-up and undercard fights, on the BBC Sport website, mobiles and app.
Chris Eubank was once asked why he refused to face the greatest names of his era, to which he replied: "Glory is for God." By which he meant: why risk it all against James Toney or Roy Jones Jr in the United States when I can keep my lucrative business ticking over against far dimmer lights on home soil?
It was only at the end of his career, after his impossibly brave losses to Joe Calzaghe and Carl Thompson (twice), that Eubank belatedly realised his hollow pursuit of money had greatly contributed to his avowed hatred of boxing. And that there was something to be said for glory, after all. Even in defeat.
Carl Froch, in common with most boxers, has never been in Eubank's privileged position of being able to choose between money and glory. Lacking Eubank's charisma, domestic rivals and a settled television deal, for Froch glory was a constant necessity: only by fighting the greatest names of his era was he able to attain financial security.
It is this epic struggle for respect and acceptance that continues to define him, even now he has cemented his place among the British greats. So that against Mikkel Kessler on Saturday, Froch, 35, will be even hungrier than when they first met - rabid, even. Willing, he says, to fight to the death.
"I'll never get to the point where I can't physically throw punches," Froch, who was outpointed by his now 34-year-old Danish rival in Copenhagen in 2010, tells BBC Sport. "Unless you break my back and I can't walk, there's no reason to pull out of a fight. That's why I'm still fighting, because I've still got that desire.
"Kessler's much like myself - there's no quit in us. We're both ready and it's going to be a brutal fight. It will be vicious from my side because I'm going to put all my arsenal on him. I'm going to be firing on all cylinders - my tank's full of juice."
"All top fighters make a decision at some point," says Froch's trainer Rob McCracken. "Am I going to lay it on the line every time or am I going to keep a bit back and duck and dive? Froch lays it on the line every time and that's why people love him. And it will be no different against Kessler on Saturday.
"Carl cares about the sport; it matters to him what people think of him as a fighter. He's trained as hard for this fight, thought about it more. And it means more to him than when he was fighting for a few grand at York Hall when he first turned professional all those years ago.
"But he wants to be seen as a winner, a great fighter, regardless of what kind of money he's being paid."
To thrive in the upper echelons of boxing requires some level of mental equilibrium, the ability to block out the fame and the money that comes with it and remain grounded in the past - when the purses were smaller, the clothes considerably cheaper, the house was more pokey and the adulation non-existent.
So when I ask Froch whether the recent birth of his second child, Natalia, caused him to readdress his commitments and responsibilities, he looks aghast.
"Sometimes I fantasise about sitting at home eating cheesecake every night," says Froch, "but after a couple of weeks of eating cheesecake, it doesn't taste too good.
"I've got the acknowledgement now, the recognition and the accolades I've always deserved. And it feels great. It's been a long time coming and I've had to fight anyone and everyone - 10 world title fights back to back - to get it.
"But I'm not one for fame. It was all right on Jonathan Ross, I had a good laugh. But I still go to the bingo hall - it's like Phoenix Nights in there - and to my local boozer. I don't fancy the celebrity jungle; I'd make myself look silly."
"He's still exactly the same," says McCracken, who has been in Froch's corner since his charge crossed over to the paid ranks in 2002. "He still won't have a starter when we go out for something to eat. He might even skip dessert."
If Froch's frugality and lack of airs is sweet, his self-belief is frightening. Asked whether he ever worries about his well-being, he again looks non-plussed. "Even if I have a bad night in the boxing ring," he says, "I don't think I can get badly injured. Not if you're good like me. Not if you're tough like me."
Given boxing's grisly history, such talk might seem ill-judged. As might his vow to kill Kessler, if need be, at London's O2 Arena. But, silly as Froch was to make such a statement, it might at least bring home to fans of the sport exactly the lengths elite boxers go to in the name of entertainment.
Recently I asked Michael Watson, who suffered life-changing injuries against Eubank in 1991, whether he could explain the enduring attraction of boxing. "People like seeing dogs fight," said Watson, who remains a fan of the sport.
So we should not shy away from the truth, which is that Froch-Kessler II promises to be brutal, savage, dangerous, all those things boxing is when at its most compelling and courageous. And this realisation should bring us full circle, back to Froch's frightening, yet entirely necessary, self-belief.
It is this self-belief allied to his continued pursuit of excellence, despite his fame and riches, that should see Froch exact revenge on Kessler. Start fast, command the centre of the ring, keep Kessler pinned on the back foot - it is easier said than done. But the roar of a home crowd should make it more achievable.
"People look at me," says Froch, "and they think: 'He took on all challengers, he fought the best of the best, he gave us what we wanted to see.'"
Through Froch they see that glory still exists in boxing and is not reserved for God.