Carl Froch delivers a reminder of how glorious boxing can be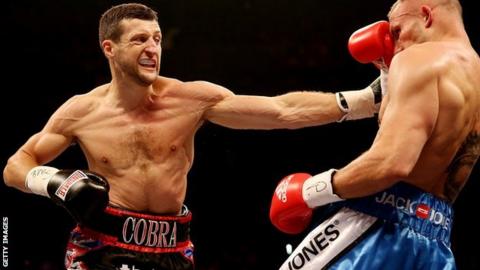 Boxing fans are evidently patient individuals: lovers of a sport that frustrates and disappoints more often than it delivers, they don't so much need a subscription to Boxing News in order to navigate their way through its methods and practices as a doctorate in politics.
But Saturday's rematch between Carl Froch and Mikkel Kessler served as a timely reminder that when boxing gets it right there is no sport more athletically pure and emotionally engaging. Two men laying their souls on the line for 12 monstrous rounds, a shambles of pounded flesh and splintered bone - everything the 20,000 capacity crowd at the O2 Arena had hoped for.
"People look at me," said Froch before the fight, "and they think: 'He gave us what we wanted to see.'" And he gives it time and time again: his 2008 encounter against Jean Pascal was almost as brutal as Saturday, his last-gasp comeback against Jermain Taylor in 2009 defied belief, his wrecking-ball demolition of Lucian Bute in 2012 made you want to weep for the Canadian.
Rematches, in common with film sequels, rarely match or surpass the original: having taken each other to scary places once, the two protagonists don't often want to go there again. But the second coming of Froch-Kessler was boxing's Godfather II: more twists, more intrigue, more bang for the price of admission.
There is a painting by the American artist George Bellows - Google it, it's called A Stag at Sharkey's - that brilliantly encapsulates the sport of boxing in all its savage glory. But Froch-Kessler II was proof that art is a poor substitute for sport, which is more thrilling and immediate than art could ever hope to be.
Froch-Kessler II was beautifully scripted. The scene was set with a cagey opening round, followed by two rounds which Froch won comfortably behind his jab. And just when you thought his Danish rival might be shot, he sprang to life in the middle rounds, sending spray flying off Froch's mallet head with a series of dazzling combinations.
By the final third the fight had settled into a grim routine of thrust and counter-thrust, with a gripped audience providing a ghoulish soundtrack of "oohs" and "aahs". The eighth round was the fight in miniature, Kessler rocking Froch with a booming right hand and Froch retaliating with a sickening flurry on the bell.
Kessler was magnificent in the 11th, demonstrating his superior boxing skills and hand-speed and punching Froch to a standstill. But Froch didn't stand still for long. "He caught me with a couple of shots," said Froch, a master of understatement. "But you're not going to put 'The Cobra' down. And even if you do put me down, I'm getting back up again and coming back at you."
If the 11th was memorable for Kessler's high-wire tricks under fire, the 12th was memorable for the Dane's impossible courage and defiance. With Froch wading forward and referee Pete Podgorski ready to step in, Kessler bounced off the ropes and stiffened Froch with a furious fusillade. It was gut-wrenching, lump in the throat stuff: when boxing is at its most vital, it can make grown men cry.
When asked if he fancied doing it all again, Kessler could only swear at the thought of it. And as he went to heave himself out of bed on Sunday morning, checking to see if he was still in one piece, he probably thought better of it, rolled back over and fell into sweet dreams of retirement.
Instead, Froch, still high on revenge, had American Andre Ward in his sights at the post-fight news conference. Ward, who beat Froch handily in 2011, was ringside on Saturday and is undoubtedly the classiest operator at 168lb.
Having witnessed Froch bring down Kessler, Ward reiterated that Froch would have to come to the United States to fight him again. But while the self-proclaimed 'Son of God' is good, he is unable to work miracles at the box office - in large part because he is too good for his own good.
"I think I upset him because I told him that stylistically he's not the most exciting fighter," said the 35-year-old Froch, for whom 48-year-old American legend Bernard Hopkins is another possible option.
"Ward's style would put a glass eye to sleep. He's effective and tricky and knows how to win. It's not an easy fight but I could stop him late on. But why would I go to America and fight him? We boxed in America, fight me in the UK."
Ward is a victim of another of boxing's cruel peculiarities, namely that the better a fighter is the more boring certain fans are likely to think he is. Witness Floyd Mayweather, who was booed during his last fight a few weeks ago despite delivering a 12-round master-class against Robert Guerrero.
Which is where Froch comes in: the Nottingham bulldozer brings the excitement, Ward, who is all out of credible options, brings the slicks. And Ward probably wins wherever they choose to do it.
Attempting to explain why Ward should fight him in the UK, Froch cited the fact he now has two world title belts to Ward's one, which is more of the ludicrous stuff that muddles boxing: the WBA crown Froch won from Kessler is a paper one, because Ward has held a version of the WBA title since he won it from Kessler in 2009.
But now is not the time to dwell on the nonsense. Rather we should savour the pungent flavour of a fight that reminded us how glorious boxing can be. Froch and Kessler gave us what we wanted to see - please can we have some more of it?