Great Britain Olympic boxing chief Derek Mapp voted out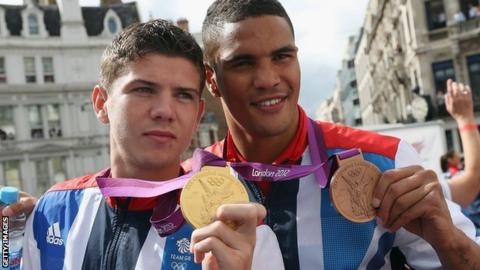 The head of the Great Britain Olympic boxing team has been removed from his post despite British boxers' five medals at the London 2012 Games.
Derek Mapp, chairman of the British Amateur Boxing Association (BABA), was voted out at an extraordinary general meeting on Tuesday.
Mapp had the support of the Welsh Amateur Boxing Association, but was voted against by England and Scotland.
He had survived an earlier resolution to oust him in January.
Great Britain's boxers won three gold medals, one silver and one bronze at the 2012 Olympics and subsequently received enhanced funding of £13.8m from UK Sport in preparation for Rio 2016.
Baba and Mapp, however, had faced criticism from Scotland, particularly with GB teams at elite level largely made up of boxers from England and Wales.
UK Sport has been unhappy with the disharmony at board level and with England now supporting Scotland in the removal of Mapp, Baba's funding could come under threat.
The national funding body has given Baba until 10 June to address its governance issues.
UK Sport chief executive Liz Nicholl said: "UK Sport has, for some time, been closely monitoring the relationship between Baba and the other home country boxing associations.
"The priority must be to ensure that British boxers preparing for Rio are backed with world-class support.
"If these issues are not addressed by 10 June, UK Sport will redirect investment from Baba and instead establish a special purpose vehicle through which funding of the Boxing World Class Performance Programme will flow, in order to protect our elite athletes."
An "extremely disappointed" Mapp told BBC Sport he had been removed on "totally spurious" grounds, adding: "There appear to be elements within the home nations that either resent the success of Great Britain or believe that the funding provided by UK Sport could be better allocated by themselves - even though it is awarded with the sole objective of winning medals which, under my chairmanship, we have achieved."