Carl Froch: Only Lennox Lewis rivals me as best British boxer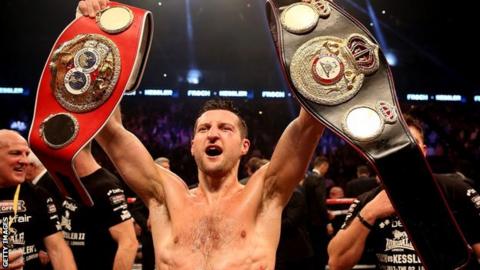 World IBF super-middleweight champion Carl Froch says only heavyweight Lennox Lewis rivals him as the best British boxer.
Froch, 35, kept his title by claiming a thrilling points victory over Denmark's Mikkel Kessler in London on Saturday.
"The recognition has been a long time coming, but I'm getting the recognition I deserve now," Froch told BBC Sport.
"In Great Britain I'm number one. It's between me and Lennox Lewis, depending on how far you are going back."
Lewis was the undisputed world heavyweight champion and claimed victories over Evander Holyfield, Mike Tyson and current WBC title holder Vitali Klitschko before retiring in 2003.
Andre Ward, who beat Froch on points in December 2011 in Atlantic City, could be the next opponent for the English fighter, but only if the 29-year-old American travels to Britain.
"If he comes to the UK there is a big chance of it happening," added Froch. "But he does not want to fight here, he has made that quite clear. He is waiting for me to go the States, but will be waiting a long time.
"He knows I will be at my best in Britain and he doesn't want to fight me at my best. He wants to fight me when I'm jet-lagged, against the crowd, against the judges and with everything in his favour.
"He said I would only be a great or a superstar if I fought in America, and I have done that. In the Super Six Boxing Classic I got to the final and lost a tight decision on points to him in America.
"That defeat has never hurt me as I felt I got pick-pocketed. It was more frustrating than hurtful."
Nottingham-based Froch has won 31 of his 33 contests and still wants to unify the division by winning the WBC belt.
"I'm a superstar in my own right, in my own country," said Froch.
"I can't think of any British fighter who can say they are more exciting than me because of the manner I conduct myself and my fighting style in the ring.
"Amir Khan and David Haye are involved in exciting fights but I have provided more frequent entertainment and I fight the best of the best.
"In the pound-for-pound rankings I'm in the top 10 in the world and, in terms of winning a fight, Andre Ward is number two.
"But on a pound-for-pound list for entertainment I would not put him in the top 20. It's an entertainment business and if you don't entertain you won't get any fights."