Martin Gethin ready for 'biggest' fight against Diaz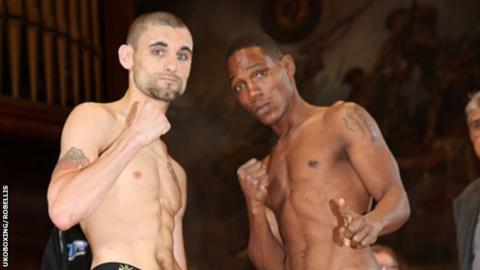 Martin Gethin says his IBF lightweight title final eliminator against Ameth Diaz is the biggest bout of his career.
Gethin admits it has been a difficult journey to Friday's fight, having lost three in a row early in his career.
"I had all my family around me, all my fans and the people I know who said they believed in me and said I could get back up there," he told BBC WM.
"And I kept on winning and training hard, and it paid off and I've got the biggest fight of my career now."
The victor at Gethin's home venue of Walsall Town Hall will face Miguel Vazquez from Mexico for the IBF world title.
However, the British lightweight champion says must focus on his bout against Panamanian Diaz, despite the lure of facing Vasquez.
"I'll always keep my eye on this fight first," the 29-year-old said. "I still have to pinch myself to realise I've got this fight, until I get in there I don't think I realise I've got it.
"When this fight's out the way, whichever way it goes, then you can look on towards the next fight."