Carl Froch: Andre Ward fight in 'neutral' Las Vegas acceptable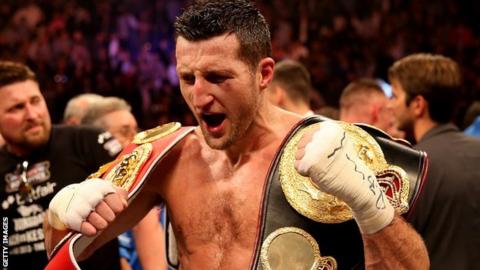 IBF super-middleweight champion Carl Froch says he would be willing to have a rematch with Andre Ward in Las Vegas.
The 35-year-old, who beat Mikkel Kessler on points last week, had previously stated he would only fight American Ward, 29, in England.
But Froch - well beaten by Ward in 2011 - seems to have softened his stance.
"If the fight wasn't going to happen and someone said it could happen in Las Vegas then I'd definitely say 'yes, let's do it'," said Froch.
"I know it's the United States but let's get it on.
"Las Vegas is kind of a neutral venue, believe it or not, because it is its own state of Nevada. They have got their own commissioner.
"I've always wanted to fight in Las Vegas in the glitz and glamour, and have my name up in lights. That is one thing I've not had in my career."
Froch's win over Kessler avenged his defeat by the the Dane in 2010 and Ward is the only other fighter to have beaten the Nottingham boxer.
"Let's keep [Ward] on ice at the minute because I've got other options," said Froch.
"He is still in his rehab with his shoulder so I can probably get a fight in before Christmas, and then in the spring or summer next year we can have a massive showdown with Ward.
"That could be the end for me because I am in the twilight years of my boxing career. Who knows? I could box on even longer than that. As long as I have got the desire I will keep going."