Leon McKenzie: Former footballer comes back punching
Last updated on .From the section Boxing92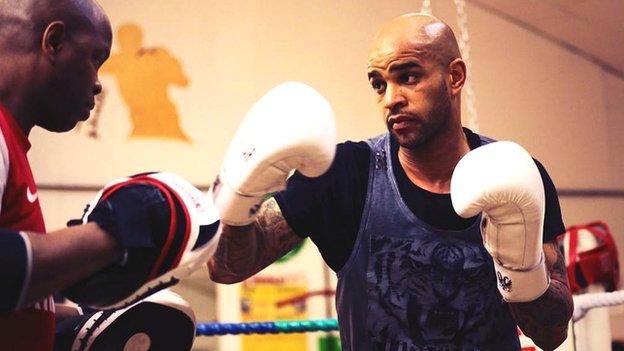 Leon McKenzie is bristling. Bristling because some people insist on defining him by what they perceive he was rather than what he aspires to be. Namely a good news story, an inspiration, a son to be proud of, an even prouder father. And a fine fighter, to boot.
"A tabloid came to the gym and did a story on me and the way it was written was disgusting," says McKenzie, the former Norwich City striker turned boxer. "They called me a 'troubled former soccer star'. I was like: 'Really? Is that all I am? I open up my heart and you do that to me and my family."
But McKenzie doesn't bristle for long. And so in a Brixton cafe, fresh from a sparring session in a nearby gym under some railway arches, McKenzie tells his uplifting story. And he tells it well.
He is eloquent, empathetic, often moving. And I'm not ashamed to say that this man with muscles upon muscles and tattoos upon tattoos rendered me, on occasion, a little bit choked.
It is indeed true that McKenzie's past hasn't all been smooth, although some people are unable to countenance the possibility that the life of a footballer on 15 grand a week can be anything but. "Another dopey sportsman," goes the line, "who doesn't know how good he's got it. Buy yourself another sports car and get a grip of yourself."
In addition, some people are unable to countenance the possibility that life moves on and people heal and improve. And that McKenzie was not someone who took a wrong path, which would suggest that depression is a choice, but that he was a good man who suddenly found himself cocooned in a frightening place.
Depression is an illness so dark and destructive it can grasp you by the throat and pin you down with the worst of them, whether you are a king, a pauper or banging in goals for fun in the Premier League. McKenzie knows this better than most.
"It doesn't matter if you've just scored the winner against Man Utd," says the 35-year-old McKenzie, who did just that at Carrow Road in 2005. "When you leave the ground, go home and shut the door behind you, you're dealing with a whole different world.
"You can put your card in the cash machine, type in your pin and look at your big balance and still come away from that cash machine feeling empty. Being a professional footballer is a fantastic life, I had some great times, have some great memories. Unfortunately, things happen to throw you off."
In McKenzie's case, "things" included the death of his sister aged only 23 and a messy divorce, which meant he was unable to see the children that gave his life meaning. Then the injuries kicked in, and without football as a relief valve, McKenzie burst.
"Everyone's got a trigger," says McKenzie, "so who are you to judge and say: 'It can't happen to him?' They don't understand depression, people look at it like a cold. But that illness can kill you. I was cloudy. I tried to take my life."
McKenzie retired from football in December 2011 and last February was jailed for attempting to avoid speeding convictions. "I got judged for being in a bad place," says McKenzie. "My punishment could have been a service to society, I could have given something back to children, gone into schools, something more constructive. I don't look at myself as a criminal, I've not lived that life.
"When I was in that cell a lot of things flashed through my mind. But I was able to grow and stand tall. I got myself into a better place, came out the other side and now I'm going into another career. Who can knock me for that?"
Next Saturday, McKenzie will make his professional boxing debut at East London's fabled York Hall, 37 years after dad Clinton made his bow at the same venue. Clinton fought Sugar Ray Leonard at the 1976 Olympics and became a British and European champion in the paid ranks. Uncle Duke, who is his nephew's principal trainer, was a world champion at three different weights.
"I've got some memorable moments from football," says McKenzie, who has been sparring with former Olympic gold medallist James DeGale. "My debut for Crystal Palace, my brace on debut for Peterborough, my brace on debut for Norwich against Ipswich - that went down nice - the winner against United.
"But stepping into the ring at York Hall will be more special than any time in my life. Now I'm going in as one, I haven't got 10 other people beside me. I'm a grown man with kids and everything else, but when your dad pulls you aside and says: 'You know what son? I'm proud of you', that's just about the best.
"There's no pressure for me, I'm never going to achieve what my uncle and dad achieved. It would be very naive to say I want to win this, I want to win that. For me to say 'I want to win something' is all I can give you.
"More importantly I want to come away knowing I gave my all and did myself and my family proud. And to have gained the respect of my fellow pros - not as a footballer who's come in and had a go but as someone who can actually box."
McKenzie may be knocking on in years but he has the genes and the early signs are good. "I think James DeGale was a little bit taken aback," says McKenzie, who used to incorporate boxing into his pre-season football training. "He said to me after we sparred: 'Wow, you can actually fight, you're gonna be just fine.'"
Mindful of his unfortunate brush with a red-top journalist, I ask McKenzie how he would like his story to be told. "I don't want people to dwell on the negative," says McKenzie, "I want it to be something inspirational.
"You can be rock bottom, in a very dark place, in a hole. But you can turn it around and achieve success and get to where you dreamed of being in your life. It's like that Rocky quote: 'It's not about how hard you hit, it's about how hard you get hit and keep moving forward.'
"When there's something you want to do in life and you've got another dream that you want to fulfil, it takes a brave person to do so. But boxing came along and I thought: 'You know what? I'm going to give it a go'.
"I get beautiful messages from people I've helped, not knowing I have. I seem to have touched more people than I thought I would. That's rewarding in itself."
Anyone who steps into a ring is courageous but McKenzie has already proven himself to be more courageous than most. A good man who found himself in a very dark place and a lesson that you, too, can soak up the blows, suck it up on your stool and come out punching again.