European Union Championships: Who are GB's medal hopes?
Last updated on .From the section Boxing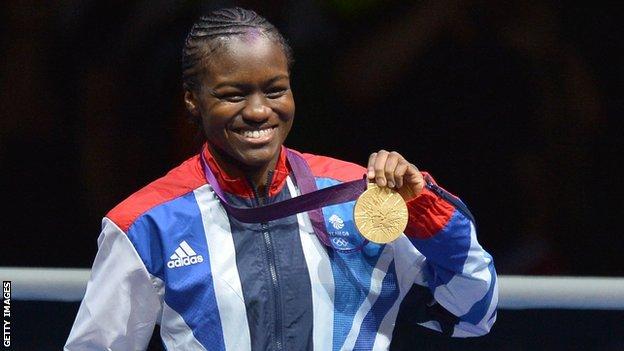 The European Union Championships begin in Hungary on Monday and represent the only major tournament for the Great Britain women's squad this year.
All four British fighters have high hopes for the competition, but who are they and what are their medal prospects?
Nicola Adams
The team will be led by Nicola Adams. Far from resting on her laurels after her historic victory at the London Olympics, when she became the first woman ever to win an Olympic boxing gold medal, the 30-year-old flyweight from Leeds says she is more driven than ever to succeed.
"I know everybody's coming for my spot," she said. "Everybody wants to knock me off my perch, so it's made me train harder - possibly harder than I did for the Games."
She goes into this tournament as the reigning champion and will be expected to retain her title, particularly since the woman she beat in the Olympic final, Ren Cancan, is Chinese and so will not be competing in Keszthely.
The Bulgarian Stoyka Petrova, whom Adams brushed aside in the quarter-finals at the Games, will be in Hungary, but the British fighter is expecting new names to emerge from these championships.
"There are people coming through, so that's just making me train even harder than before," she added. "I'm hoping I'll still be on top for the Rio Olympics."
Lisa Whiteside
Lisa Whiteside is the new name in the GB squad, despite having already won a number of medals for her country.
They came in the 57kg category, which is not an Olympic weight. So despite winning bronze at the 2012 World Championships, she had to sit and watch the Games from home, which she admits was "heartbreaking".
She has battled to get her spot on the Olympic programme, dropping down to flyweight and coming home with a bronze medal from the Felix Stamm tournament in Poland earlier this year.
That success means she is now fully funded and has been able to take a five-year career break from her job as a constable with Lancashire Police.
"I was working 24-hour shifts, lates, nights, earlies, so after a night shift I'd get up, eat, train and go to work. Winning a bronze medal while working full-time showed the GB coaches what I could do if I was full-time."
In Keszthely she will compete at 54kg and says she is aiming for gold.
Natasha Jonas
Natasha Jonas, 29, will once again represent Great Britain at lightweight. She was the first to don a Great Britain vest back in 2009 and the first to qualify for last summer's Olympics via her bronze at the World Championships.
Standing in her way in the quarter-finals in London was Ireland's Katie Taylor. Jonas put up a brave performance, but lost out to the eventual gold medallist 26-15.
Taylor will again be the one to beat in Hungary, but Jonas believes she is a better boxer than 12 months ago.
"At the Olympics I did what I could at the time and you move on from that, learn from it and hopefully we'll see the improvements," she said.
"You've got to beat the best to be the best. I always plan to get to the final and [Taylor] does the same. We're always going to meet somewhere along the line."
Savannah Marshall
Savannah Marshall completes the squad. Despite being reigning world middleweight champion, the 22-year-old had a disappointing Olympics. Favourite for gold, she lost her opening fight to Marina Volnova of Kazakhstan.
Though she made no excuses at the time for her defeat, it later emerged she had been struggling with injury.
Volnova is among a strong line-up in Hungary, which also includes Russia's Olympic silver medallist Nadezhada Torlopova.
Having recovered from a hand injury this year, Marshall says she is keen to get back in the ring. "The Europeans tend to attract quite a strong field so I am expecting a hard competition and some tough contests," she said.
And another name to look out for
There is one other name to look out for, that of Crystal Barker, who is competing in the Youth competition.
The 16-year-old from Salford is part of the GB podium potential squad. She has represented Great Britain on two occasions and twice come home with gold.
She fights at flyweight, the same as Nicola Adams, and hopes to follow in the Olympic champion's footsteps. "I want to be as fast as her when I'm older and hopefully I can go to the Olympics one day," she said.
She will be aiming for gold in Hungary and is expected to benefit from spending time with, and training alongside, the senior squad.