Further fights planned for Leon McKenzie
Last updated on .From the section Boxing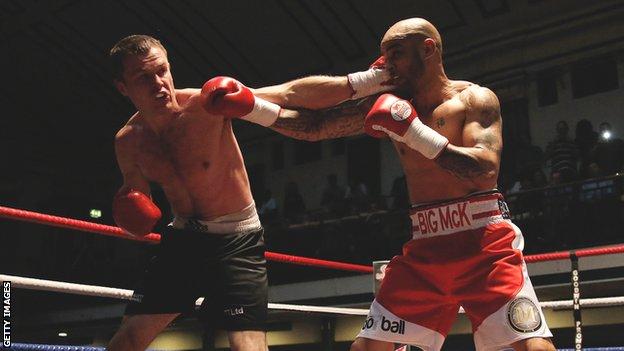 Three-time world champion Duke McKenzie says he hopes to arrange more fights for Leon McKenzie following his nephew's victorious debut on Saturday.
Duke told BBC London 94.9: "We need to build Leon into an attraction.
"His career will be very short-lived so we have to get a move on and try and get as many fights as we can together and see where it takes us."
He added: "There will be somebody out there who thinks 'I fancy Leon McKenzie. I'll take that fight' and hopefully we'll get one in the next couple of months."
The former Crystal Palace, Peterborough and Norwich City striker's team are currently in talks to fight in Norwich in September.
And Duke was impressed with how Leon handled his professional debut.
"Leon has done extremely well bearing in mind he has never had a fight in his life - amateur or professional," he said.
"The York Hall is an intimate arena and his opponent came to win.
"Sixteen long weeks we had been waiting for the fight and as we were coming out of the changing room he said he was bursting at the seams.
"I'm absolutely delighted for the kid and I was a little bit of an emotional wreck. It was worse than me fighting and I had tears in my eyes.
"Forget the fact we are related - I have got nothing but respect for Leon.
"For anyone to get between those ropes and take punches takes a lot of backside. He showed so much courage and conviction in his punching.
"We have been working on specific moves and it was nice to see him executing them. We see where we go from here."
Leon is currently trained by his father Clinton, a former British and European light-welterweight champion, as well as Duke, who is currently awaiting his licence from the British Boxing Board of Control.
Duke admitted Leon's debut was an emotional occasion for the family.
"It is a proud moment for all the family, particularly his dad," he said.
"We drove up to the York Hall from Croydon and from the minute we got in the car Clinton had tears in his eyes and was crying. That was pure emotion which set me off.
"We were a couple of ex-boxers driving along in the car and blubbing to each other. It was ridiculous."