Debutant Anth Hardy keen to take on tough opponents
Last updated on .From the section Boxing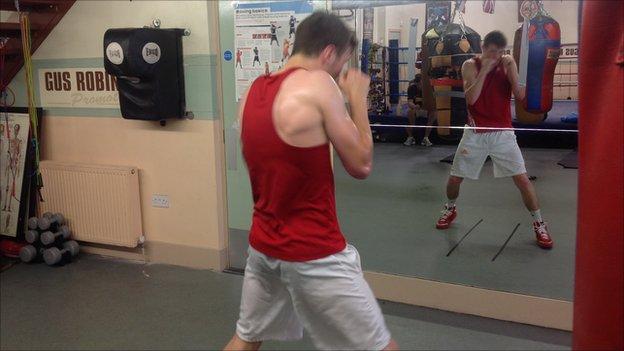 Horden welterweight Anth Hardy says he wants to face the best opponents available in the professional ranks, even if it means defeats on his record.
Hardy, 21, makes his debut at the Stadium of Light on Sunday against Tamworth's Matt Seawright, after 29 wins in 51 amateur encounters.
"I'm not bothered about a perfect record," Hardy told BBC Sport.
"Some do it for money but I aim to do as well as I can. If I take the odd defeat, so be it."
Hardy added: "In getting there it might happen, but I'm trying my best to get my name out there."
Also among the fighters at the Summer Rumble event - which returns to the city of Sunderland for a third time - are Martin Ward, Anthony Nelson and Mohammed Waqas,
Some boxers come into the professional game with glittering fight statistics, some from Olympic success, but Hardy believes his grounding in the amateurs will help in the step up.
"I was always getting beaten by the champions - the best lads. I wasn't taking negatives from the fights, I was boxing the top lads and they would go on to win," Hardy added.
Hardy works full-time at a nearby education centre, combining his preparation with trainer Peter Cope around his job.
In addition, the switch to the professional game has brought about lifestyle changes.
"I've got mates who are professional footballers, their workload is three hours of training, dillying round the football pitch, but this is training," he said.
"A professional boxer knows how to train, and we have to make sacrifices.
"My mates have gone to Bulgaria on holiday, I normally go every year, but I'm not on holiday this year, I'm training all year and trying to get the fights in.
"You don't see your family or friends, you're in the gym but that's the priority."