David Haye: Tyson Fury fight will capture British imagination
Last updated on .From the section Boxing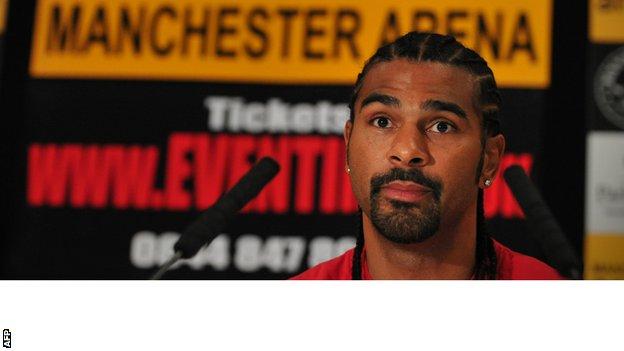 Former world heavyweight champion David Haye says he believes his fight with fellow Briton Tyson Fury will capture the public imagination and is great for British boxing.
Haye, 32, will meet the unbeaten Fury on 28 September in Manchester.
"This fight is great for British boxing - the last few years boxing hasn't had that month-by-month coverage that one would like," said Haye.
"There haven't been fights out there to generate that but there is with this."
Haye's most recent fight was his knockout win in another all-British bout with Dereck Chisora in July 2012, which originated from the ugly brawl between the pair at a news conference in Munich in February 2012.
"Even my last fight against Chisora, people said it was a good fight," added Haye.
"It was praised afterwards so that helped [and] I think a fight against an unbeaten Fury will do the same thing.
"It will really capture the public's imagination and once he is dispatched, I think they will be very happy."
The Londoner, who has been beaten twice in 28 fights, most recently by Wladimir Klitschko in a world heavyweight unification bout in 2011, was due to fight Manuel Charr in June but pulled out with a hand injury.
Manchester's Fury, 24, who beat American Steve Cunningham in April to move to 21 fights unbeaten, turned down a bout against Bulgarian Kubrat Pulev that could have earned him an IBF world title shot against Klitschko in order to fight Haye.
"I'm going to train hard and I'm hoping for a fight - I'm not hard to hit and I will stand in front of you, but I land bombs if they land them," said Fury.
"If David can beat me then congratulations to him, he will have put me out of my misery and there will be no hard feelings at all.
"A man can only do what a man can do but I believe what I can do will be good enough to beat not only Haye, but the Klitschkos as well."