Anthony Ogogo lines up Bernard Hopkins training
Last updated on .From the section Boxing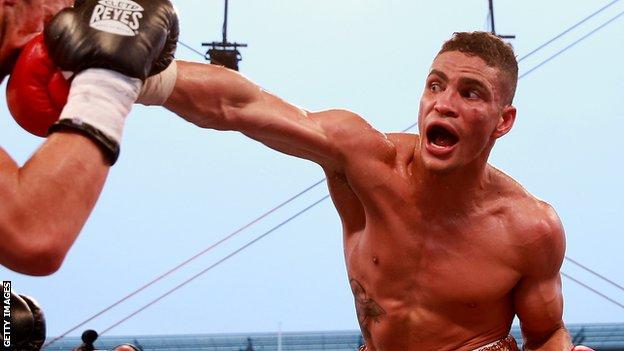 Anthony Ogogo has said he will work with middleweight legend Bernard Hopkins after taking his professional record to three wins from three.
British Olympic medallist Ogogo will have training sessions in Philadelphia with Hopkins, who was the first man to unify all four major world titles.
"It will be a bit of a dream come true," he told BBC Radio Suffolk.
"Bernard wants me to go over there and do a bit of training with him and wow, what an opportunity that is."
American Hopkins, 48, became the oldest world champion in history in March and has a record of 53 wins and six losses, with his most famous victory coming in 2004 when he beat Oscar De La Hoya, the owner of Golden Boy Promotions, the company backing Ogogo's career.
"He's one of the greatest fighters of our generation," said Lowestoft's Ogogo, who has yet to commit to a full-time coach.
"If he can teach me an ounce of what he's got in his head I'll come back a twice better boxer."
The 24-year-old middleweight, a bronze medal winner at London 2012, retained his 100% record since turning professional by
"That was probably my most enjoyable fight to date," he said.
"My first one [against Kieron Gray] was over a bit too quick and I was overexcited and apprehensive. My fight in America [against Edgar Perez] was brilliant but I was a bit ill over there.
"But I just settled into this one after the first round and I really enjoyed it."
Ogogo has spoken of his desire in September - a fight which is expected to break box office records.
And he said Golden Boy are close to sealing his appearance on the Las Vegas bill.
"Fingers crossed I'll be on it. It hasn't been confirmed yet," he said.
"I'm just making the right noises and Golden Boy are thinking 'we better give him a run out'."