ABAE confident English boxers will compete at World Championships
Last updated on .From the section Boxing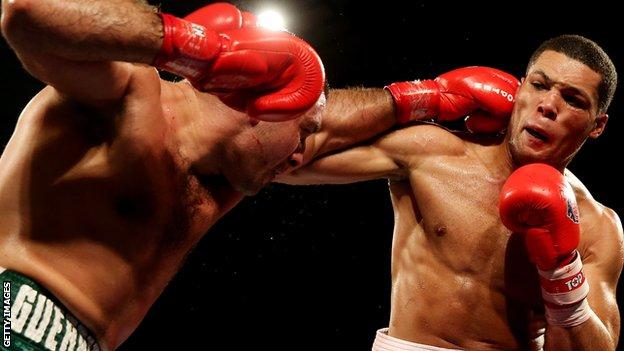 The Amateur Boxing Association of England is confident its boxers will not miss October's World Championships.
The International Boxing Association (AIBA) has provisionally suspended the national governing body.
AIBA believes rules have been broken with regards to external interference in ABAE's new constitution and blocking World Series of Boxing (WSB) fighters from featuring in national events.
An ABAE spokesperson confirmed that the matter will be dealt with "speedily".
News of the provisional suspension had spread concern that English boxers could be prohibited from competing at October's World Amateur Boxing Championships in Kazakhstan.
Under the provisional suspension, all ABAE boxers, coaches and officials are not allowed to feature in any AIBA competition at any level.
"We are certain that it will not in any way impact on the participation of English boxers in this year's World Championships or any major international tournaments in 2014," the ABAE spokesperson told BBC Sport.
"This is a provisional suspension pending the decision of an AIBA Disciplinary Council.
"We will be contacting AIBA immediately in relation to the concerns it has raised, and we are confident that the ABAE will be able to provide the international governing body with the necessary reassurances to ensure this provisional suspension is lifted."
AIBA has imposed the provisional suspension after judging the ABAE to be in breach of the world governing body's rules.
AIBA has interpreted Sport England's support for a new ABAE constitution as a violation of a statute which says national federations should prevent external influences in their election and appointment processes.
Former sports minister and current ABAE chairman Richard Caborn reportedly mentioned approval from Sport England, which funds grassroots amateur boxing, in a letter to AIBA to inform them of their new articles of association and plans to make boardroom changes.
AIBA also believe their technical competition rules were breached by the ABAE, which stopped WSB boxers participating in this year's national championships.
ABAE had set up a medical commission to look into the safety of WSB boxers competing in national championships but AIBA rules state that they must be allowed to compete.
Flyweight Charlie Edwards was one boxer who was stopped from competing in the ABAs this year because he was registered as a WSB boxer with the British Lionhearts.
In June, UK Sport, the government agency that funds elite sport, backed down on its threat to redirect boxing's £13.8m Olympic funding away from the British Amateur Boxing Association (BABA).
The threat arose when Derek Mapp was ousted as BABA's chairman in May.