Richard Towers 'gutted' after being denied visa for Lucas Browne bout
Last updated on .From the section Boxing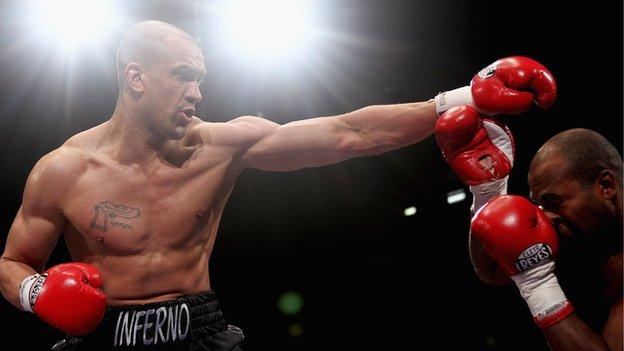 Sheffield boxer Richard Towers has said he is "gutted" after having a visa application turned down by the Australian authorities.
The 33-year-old served half of a 13-year prison sentence for kidnapping before being released in 2007.
He had been due to face Lucas Browne in Melbourne on Thursday in a Commonwealth heavyweight title eliminator.
"I was absolutely gutted. I just have to play the waiting game now. I'm back on the grind," Towers told BBC Sport.
"Don't get me wrong, I'm not an idiot and I knew there could be some issues, but I trusted my team and we all thought it would be fine. I've been to America without any problems.
"It came to my attention on Saturday, when we were supposed to be flying, that things weren't progressing as they should.
"I'm a positive guy. Some people have been saying 'that's 16 weeks of training for nothing', but I don't look at it like that at all.
"Of course, it's a blow financially, but I'm fitter than I've ever been and I'm in the best shape of my life."
Towers, then known as Richard Hayles, was jailed in 2001 for his involvement in a gang who kidnapped and tortured a man for a £150,000 ransom.
He believes his experiences in prison have given him an edge over other fighters.
"I was living with serial killers and gangsters. I was surrounded by these people for 23 hours a day every day," he said.
"A lot of people don't know what life can be like, how bad things can be, but I do. Being where I've been has given me the kind of strength that other fighters don't have.
"I still see bad people. They come to see me at work in the gym because they respect me. They see how I've come away from that life."
Towers, who says he has been living off his savings since his last fight against Gregory Tony in June 2012, gives talks in schools to urge young people to stay away from crime.
Nicknamed 'The Inferno', the 6ft 8in fighter is undefeated in 14 professional bouts.
Having sparred with Wladimir Klitschko, Tyson Fury and Olympic champion Anthony Joshua, he feels he has a lot to offer the heavyweight division.
"I'll go in there with anyone at any time. I know I've got a puncher's chance.
"Sparring with Wladimir and being around him taught me so much about focus and how to be a fighter and I learned so much from him.
"I've not got any sponsors at the moment but what keeps me going is I know I'm a few fights away from a big money fight, it's within my reach."
He added: "I said when I got out of prison I was going to dedicate my life to boxing for 10 years. I want to be able to come out of this and be able to tell my two sons about the life I've had and I know I won't be able to do that if I take too many punches.
"The bigger picture is I was never supposed to get here and I want to make the most of every opportunity I get."
Towers will be on the Victoria Derbyshire show on BBC 5 live from 11:00 BST on Thursday, 25 July.