Darren Barker: Barnet boxer uses yoga in title fight build-up
Last updated on .From the section Boxing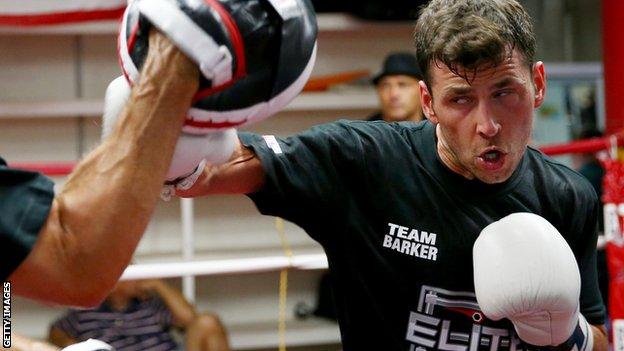 Barnet boxer Darren Barker says a new training regime has left him in top condition ahead of his world title fight against Daniel Geale.
The 31-year-old faces the Australian for the IBF middleweight belt in Atlantic City this Saturday.
He told BBC London 94.9: "With the style I've got, I like to be quite loose and elusive, get out of the way of shots and be nice and quick.
"I have come on leaps and bounds and am raring to go."
Barker has turned to water-based training and yoga to keep injuries at bay, having spent 12 months out with a hip injury earlier in his career.
"I have had a lot of hip trouble which has been well-documented," he said.
"In the water there is a lot of weight-bearing and you don't have the impact you do with running. I've done a lot of cardio and strength [and conditioning] in the pool.
"I've incorporated yoga into my training. The flexibility and breathing awareness has really benefitted me."
After winning bouts against Kerry Hope and Simone Rotolo in December and March respectively, Barker says he feels in peak condition.
"It is a bit of a rarity for me to have back-to-back training camps and getting through them without any injuries," he said.
"I'm confident with my body. I have had so many troubles with knocks and whatnot that I was losing a bit of faith in it.
"I am full of confidence with two good wins and I want to roll it over into this fight.
"I know you hear it all the time with top athletes in whatever sport - they always seem to be in the best condition they have ever been.
"It is a bit of a cliche but I honestly do feel I am in the best shape I have been in."
Yoga has been embraced by other sports, with footballer Ryan Giggs incorporating it into his training and rugby league side Wigan Warriors giving it a go, but Barker admits it is a different step for a boxer to try it.
"I can't imagine seeing Sylvester Stallone doing a 'downward dog' in Rocky," he said.
"It is working for me but I need to make it all count.
"It will be for nothing if I don't win the world title but I am very confident in the training I have been doing and my conditioning.
"Then we might see everyone sitting on pink mats bending over backwards."
Barker's sole title fight ended in an 11th-round knock out to Argentine Sergio Martinez in October 2011.
Australian Geale, 32, became a world champion in May 2011 by beating Sebastian Sylvester and has successfully defended his IBF belt on four occasions.
Barker has been involved in two fights in Atlantic City - the first when he was beaten by Martinez and the second when he was in the corner of gym mate Lee Purdy when he lost his welterweight bout to Devon Alexander in May.
Geale has never fought there and Barker believes his experience could prove to be a factor.
"It is mad out there and there is a buzz that is totally different from what we are used to," he said.
"Over here we get big crowds but out there the atmosphere is crazy from the weigh-in to the press conference. I have been there and experienced it.
"I have fought the best in the division out there and was there recently with my team to get a sense of the occasion and how it all works.
"I know how my life can change but ultimately the pressure is on Daniel Geale.
"He has been talking about how he wants to impress out there and he goes out there as the world champion. All eyes are on him.
"I have been given this fantastic opportunity which I am so thankful for. It's now up to me to go and make my dream come true.
"It is what I have wanted since I was a kid and I am so excited."