Darren Barker set for domestic rivals Murray & Macklin after Sturm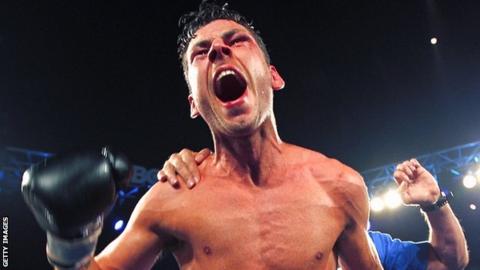 Promoter Eddie Hearn says Darren Barker's world title triumph could open the door to some long-awaited domestic middleweight match-ups in 2014.
On Saturday, 31-year-old Londoner Barker outpointed Daniel Geale in Atlantic City to secure the IBF title.
Barker is set to defend his belt against mandatory challenger Felix Sturm in November but compatriots Matt Macklin and Martin Murray lie in wait.
"Next summer could lead to some big domestic match-ups," said Hearn.
"Next is a mandatory fight against Sturm, we've got no choice. But I'm happy with that fight - Sturm is a big name, he's beaten Macklin, drawn with Murray - and hopefully we'll make it in November in London.
"After that, we may look at the rematch with Geale, and then you've got some potentially huge fights for Darren.
"Darren would love a rematch with Sergio Martinez [WBC champion Martinez knocked Barker out in 2011], because that would now be a unification match.
"Those British fights can happen in 2014, although Macklin and Murray have got to get themselves into position, they've got to raise their profiles so those fights will be as big as possible."
Barker (twice), Birmingham's Macklin (three times) and St Helens's Murray (twice) have fought for versions of the world middleweight crown in the last two years without any of them fighting each other.
But Barker's defeat of Geale could trigger a British middleweight tournament that would revive memories of the Nigel Benn-Chris Eubank-Michael Watson round-robin of the late 1980s and early 1990s.
Meanwhile, Hearn is confident Barker would have the beating of both Sturm and Martinez second time around.
"I don't think Martinez is as good now as when Darren fought him, Darren could beat him this time out. And Sturm is not as good as he was, either."
Argentine Martinez was below par in beating Murray in Buenos Aries in April while three-time world champion Sturm was fortunate not to lose his fights against Macklin and Murray and lost to Geale last year.