Frank Warren fighting Eddie Hearn for British boxing's heart and soul
Last updated on .From the section Boxing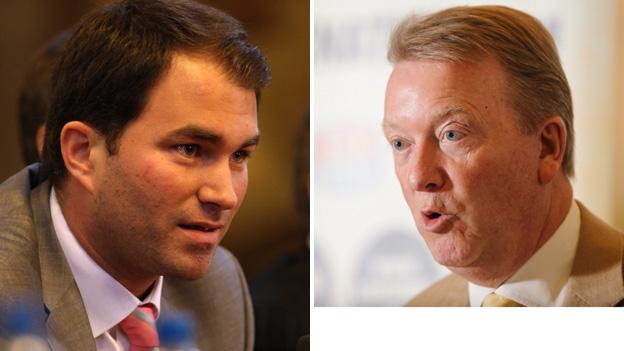 One good thing about getting shot, as long as you survive, is that it is likely to provide you with a sense of perspective - so no wonder Frank Warren scoffs and bristles when it is put to him that he is on the ropes awaiting a knockout blow.
No matter that Nathan Cleverly's defeat last weekend left Warren's promotional outfit with no world champions. No matter that Darren Barker's victory gave Eddie Hearn his third world title-holder. Warren has been around more blocks and ridden more swings and roundabouts than you or I have had dinners. Hot or not.
"Frank's still very much alive and you've always got to think about what he's doing," Hearn said.
"It's part of the business," said 61-year-old Warren. "You get used to it. I enjoy the challenge. I lived and breathed boxing - and still do."
In November 1989, Warren - at the time British boxing's premier promoter - was shot by a masked assailant outside an east London theatre and left clinging to life. While the king was convalescing his empire crumbled.
Warren's City backers pulled their funding and the London Arena, which he founded in the late-1980s, went into receivership. Meanwhile, his stable of fighters dwindled - and when featherweight Colin McMillan lost his WBO title in September 1992, Warren also lost his last headline act. Ring any bells?
Hearn's father, Barry, whose main interest had been snooker, benefited most from Warren's predicament.
Hearn Sr helped mould the magnificently eccentric Chris Eubank into one of the biggest sports stars in Britain. When Eubank fought, a nation stopped, which was especially remarkable given many of his fights were awful.
With Eubank as its principal poster boy, Hearn Sr's Matchroom outfit looked like the safest refuge at the top of the fight game's shark-infested waters.
In boxing's lexicon, the word 'loyalty' does not appear.
"When I got shot, I had fighters all walk to the other side of the street - Steve Collins, Herbie Hide, Chris Pyatt," said Warren. "But within two years they were all back with me."
Warren's way back in was the rematch between Eubank and Nigel Benn in October 1993. With Hearn Sr struggling to make the event happen, it was left to Warren to tie up the television deal with ITV. On the night 16 million tuned in.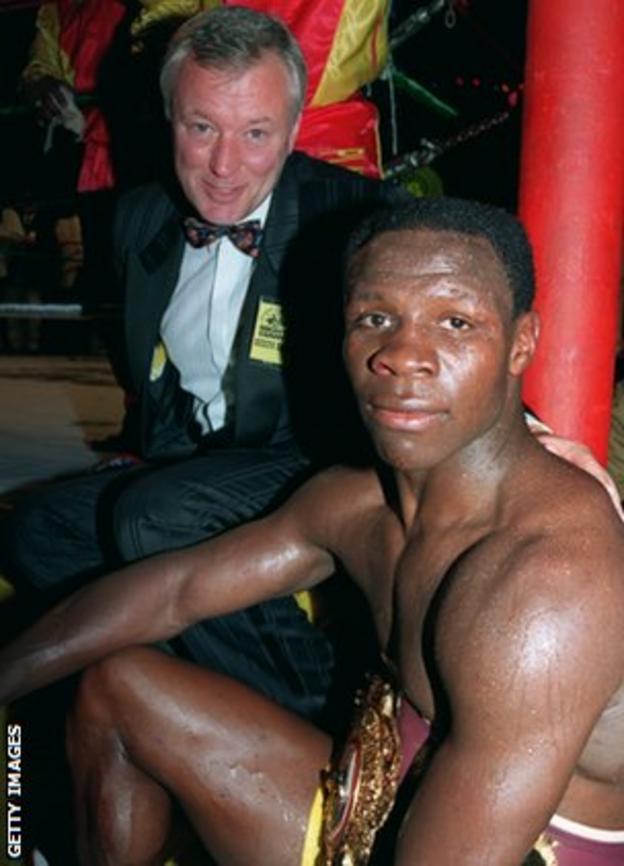 In 1995 Warren took his entire stable - which included Benn, Frank Bruno and British boxing's biggest superstar (and former Matchroom fighter) Naseem Hamed - to Sky, where the audience figures were lower but the money was higher.
Meanwhile, Hearn Sr looked like he was finished, at least in terms of boxing. In a little over a year, he lost six world titles.
"I shall always wear that big smile on my face and ignore the back-stabbing and the rumours," he said. The smile must have looked a little bit forced when Eubank signed with Warren in 1997.
Hearn Sr turned to other things - principally darts and Leyton Orient, but also poker and fishing, and latterly snooker again - and Warren became even more dominant.
However, now Warren finds himself scrapping for signatures with Hearn Sr's chip off the old block.
Boxing's narratives are often so impenetrable and emotionally charged, not to mention absurd, as to be almost operatic - but Warren has seen it all before.
In the early 1980s, Warren who was the fresh-faced kid looking to become top dog - and he became just that, blowing open the cartel that ruled British boxing, chief among it Mickey Duff.
Warren outlasted Hearn Sr, then came Hearn Jr. This time, though, the new boss might pose more of a threat than the old boss.
A licensed promoter for two-and-a-half years, the 34-year-old has already assembled a formidable group: world champions Barker, Carl Froch and Ricky Burns; David Haye, perhaps the biggest draw in British boxing; prospects Kell Brook, Tony Bellew, George Groves and Lee Selby; and former Olympians Anthony Joshua, Luke Campbell and Tom Stalker.
In another echo of the past, Bellew, Groves and Burns defected from Warren to Hearn Jr in quick succession, partly because he shares his father's charm and vigour but mainly because he has an exclusive deal with Sky.
"Every time we talk to a fighter they say, 'I want to fight on Sky Sports'," said Hearn Jr. "Why are Frank's fighters leaving? Because they want to box as often as possible in front of the biggest audiences possible.
"You've got to be in a place that's sound and secure. Maybe as a fighter you see the losses that Frank Warren is incurring and you worry about your future."
Warren's promotional arm did indeed report substantial losses earlier this year but the man himself points out that his subscription channel BoxNation, which was launched in 2011 after he left Sky, is holding firm.
"We've put our destiny in our own hands," said Warren, whose channel is home to domestic fighters Carl Frampton, Dereck Chisora and Billy Joe Saunders, as well as international superstars such as Floyd Mayweather and Saul Alvarez.
"We don't have to go cap in hand to anybody; we can pick what dates we want. You can't get any more commitment to boxing than that.
"I don't care what anybody else does - all I've ever focused on is what I do. Developing fighters is putting the money in from day one. I deliver more world champions than anybody - developing them, not nicking them from somebody."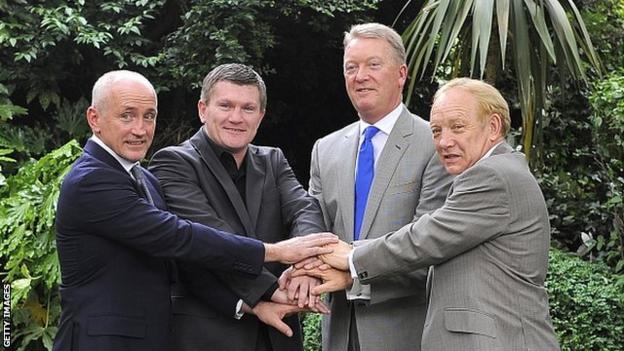 In June, Warren announced a strategic alliance with a raft of British promoters, including Frank Maloney, Ricky Hatton and Amir Khan, who all found themselves frozen out by Sky in the wake of its exclusive deal with Matchroom.
Given Matchroom's Sky monopoly, its superior collection of fighters and the fact it has three of Britain's four current world champions on its books compared to Warren's none, Hearn Jr still appears to be winning the war.
"We've got momentum," said Hearn Jr, "We've secured our position as number one promoters in the UK, but watch where we are in five years."
Still at war, most probably, given that Warren has two sons in the business.
"Barry Hearn's boy has come in with a spoon in his mouth," countered Warren. "But I come from the same situation as Barry Hearn - and I saw him off, big time."
Some of these quotes were taken from the BBC 5 live Boxing show broadcast on 19 March 2013