David Price splits with long-time coach Franny Smith
Last updated on .From the section Boxing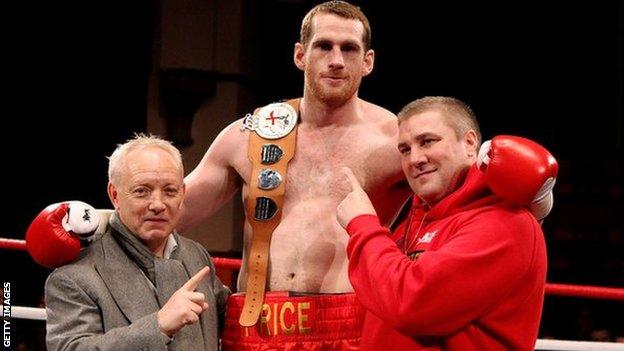 British and Commonwealth heavyweight champion David Price has parted company with trainer Franny Smith.
"Franny has always been a huge part of my career and after discussion we've agreed this is the best way forward," Price told The Liverpool Echo.
Price is expected to meet promoter Frank Maloney in September to discuss if their partnership will continue.
Liverpudlian Price, who has also had former world heavyweight champion Lennox Lewis in his corner, has taken time out since last month's defeat to Thompson, 41, to consider how to rebuild his career.
He was considered a world title prospect after winning the first 15 fights of his professional career, but lost in round two to Thompson in February, and was stopped in the rematch in round five.
Price had been with Smith since turning professional in 2009.
"Franny will always be more than just a trainer to me, I consider him as a very close friend so making this decision was extremely hard," Price added. "He did a fantastic job making me the first Liverpudlian British and commonwealth heavyweight champion.
"I have made up my mind that I have to start a new chapter in my career and I am sad that I will be starting this without Franny, but for me to achieve my goal as heavyweight champion of the world, I feel that I need a change.
"I am in no rush to appoint another trainer and I am open to discussions."