Raymundo Beltran says a tough life has made him a better boxer

By Phil Goodlad
BBC Scotland
Last updated on .From the section Boxing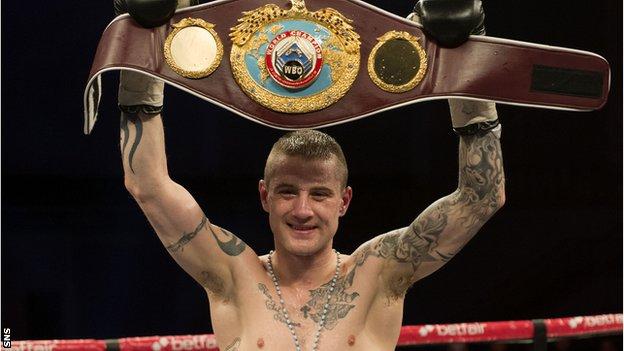 Raymundo Beltran is an ex-sparring partner of boxing legend Manny Pacquiao but says it is life experiences that will help him beat Ricky Burns.
The Mexican meets Burns on 7 September for a WBO lightweight title bout.
"From Manny Pacquiao I learned how to be patient in hard circumstances in the fight, when things get critical," Beltran told BBC Scotland.
"But what really made me a more aggressive fighter was life and the experiences in my career."
Beltran, 32, came from a humble background in Mexico before escaping with his family to the USA in 1996 and living as an illegal immigrant.
"It's a long story," he said. "We emigrated to America because we were looking for a better future.
"I've been sacrificing my whole family, my kids, for boxing.
"Many times, the game plays you wrong and boxing is hard politics. Lies or being left without a fighter at the last moment and you need the money to feed your family.
"In Mexico you struggle at being able to provide, because some promoters tell you they're going to do something and they don't do it."
But now, against Burns, Beltran has what he himself regards as his last chance "to be his own fighter" and aims to win the world title so his family can "live better".
"I've made my own name and that's why we're here fighting for a title," he said.
"We're competitive and we have the level."
Burns' wife Amanda recently gave birth to their first child, however Beltran does not think it will have a negative effect on the 30-year-old Coatbridge fighter's boxing.
"It'll make him even more dangerous and motivate him even more," Beltran said.
"Now he's got a reason to live for and to fight for. When I fight, I think about my kids and try to fight harder."