AIBA confirms English boxers can compete at World Championships
Last updated on .From the section Boxing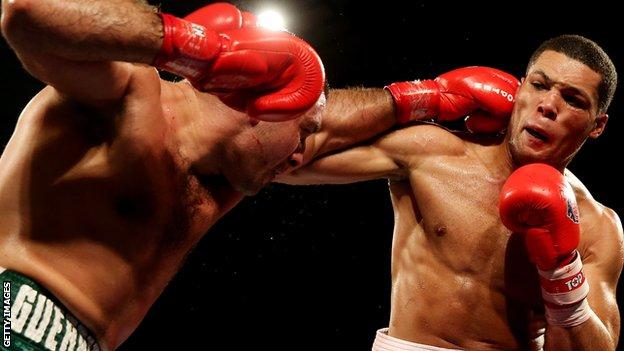 English boxers will be able to compete at the World Championships in October whatever the outcome of disciplinary action against their governing body.
The Amateur Boxing Association of England is provisionally suspended from International Boxing Association (AIBA) events over governance issues.
If a disciplinary panel upholds the decision there may be a six-month ban.
But AIBA president Dr Ching-Kuo Wu said: "English boxers will be protected."
He added: "It is their right to participate in all AIBA-sanctioned events.
"I have promised the boxers they will be able to compete in the major events this year, including the World Junior Championships, the World Senior Championships and the women's junior and youth World Championships."
The AIBA imposed the provisional suspension after judging the ABAE to be in breach of the world governing body's rules.
Sport England's support for a new ABAE constitution was interpreted as a violation of a statute which says national federations should prevent external influences in their election and appointment processes.
Former sports minister and current ABAE chairman Richard Caborn reportedly mentioned approval from Sport England, which funds grassroots amateur boxing, in a letter to the AIBA to inform them of their new articles of association and plans to make boardroom changes.
The AIBA also believe their technical competition rules were breached by the ABAE, which stopped World Series of Boxing fighters competing in this year's national championships.
Wu said the world governing body's disciplinary commission is close to reaching a decision - and if a ban is imposed English boxers will be made to compete under the AIBA flag at the World Championships in Kazakhstan.
England did not compete at the recent European youth and junior championships because of the suspension.
In June, UK Sport, the government agency that funds elite sport, backed down on its threat to redirect boxing's £13.8m Olympic funding away from the British Amateur Boxing Association (BABA).
The threat arose when Derek Mapp was ousted as BABA's chairman in May.