Boxers can fight for England at World Amateur Championships
Last updated on .From the section Boxing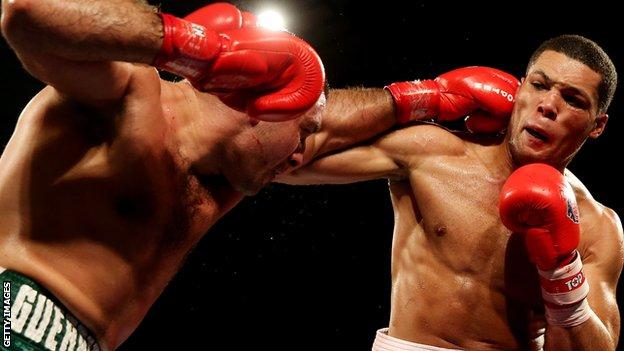 English boxers can fight for their country at next month's World Amateur Championships after the Amateur Boxing Association of England (ABAE) had its provisional suspension lifted.
A disciplinary commission of the International Boxing Association (AIBA) instead fined the organisation £3,400 for "violations" of its statutes.
That fine will be waived if the ABAE admits it failed to comply.
The ABAE is setting up a programme, with AIBA, to "reconcile the issues".
A spokesman for England's governing body said: "Ensuring English boxers at all levels are able to participate in international competitions has always been our number one priority from the start of this process so we welcome the proposed resolution of this dispute and look forward to our boxers once again being able to box as England in the near future."
AIBA believed rules were broken regarding external interference in ABAE's constitution, with chairman Richard Caborn reportedly mentioning consultation with Sport England, which funds grassroots amateur boxing, in a letter to the world governing body.
AIBA also believes its technical competition rules were breached when ABAE stopped World Series Boxing competitors participating in this year's national championships.
A provisional suspension was issued in July which stated all English boxers, coaches and officials were not allowed to participate in AIBA-sanctioned events.
That raised fears over English boxers' involvement in the World Amateur Championships in Kazakhstan, which begin on 11 October.
AIBA president Dr Ching-kuo Wu said they would be eligible to compete under the flag of the governing body were the suspension upheld, but they can now box for England again.
The disciplinary commission said ABAE had offered "poor excuses for evading its responsibilities and obligations" regarding the external interference in its constitution.
And the English governing body was ordered to establish a compliance committee to develop recommendations for governance changes to its articles and by-laws before 8 October, or face the possibility of further sanctions.
AIBA said in a statement: "Any issue regarding delays or objections during this reform process may be referred back to the disciplinary commission, who may then reopen the matter and issue additional fines and/or sanctions."
The ABAE spokesman added: "It is our intention to have the AIBA rules and statutes in place within the agreed timetable."