Floyd Mayweather: The man, the money, the mayhem
Last updated on .From the section Boxing170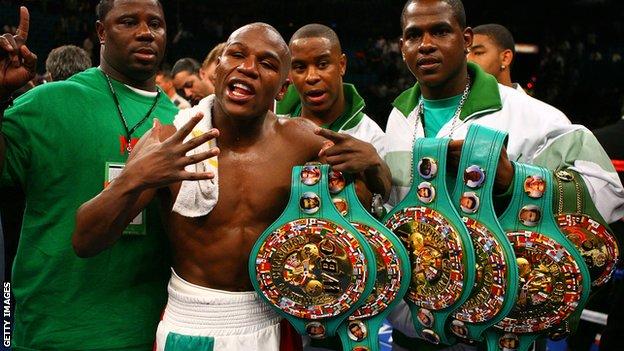 The American people, as with their presidents, often get the boxing champions they deserve.
Whether it be Jack Johnson, the first black heavyweight champion of the world, socking it to his white oppressors in the early 1900s; or Rocky Marciano, a reassuring slab of normality on the post-World War II landscape; or Muhammad Ali, a beacon of black pride in the deeply divided 1960s.
So what have the American people, circa 2013, done to deserve Floyd Mayweather, the impossible knot of contradictions that is American boxing's lone - and last, some pessimists might argue - global superstar?
Many others would argue that the days when the American people were defined, to any extent, by their boxing champions ended long ago.
The fact that Johnson, Marciano and Ali were heavyweights and Mayweather is one of the sport's little men seems symbolic in itself of how far boxing has receded in the collective consciousness of the American sports fan.
But how to explain the mind-boggling Mayweather numbers - the £127.4m, six-fight deal signed with American network Showtime in February; the world record £26.4m purse for his fight against Mexico's Saul Alvarez in Las Vegas on Saturday; the record-breaking £12.2m live gate at the MGM Grand?
And how to explain 'Money' Mayweather's position at the top of Forbes' list of highest-paid athletes for 2012; and the guaranteed £49.9m in purses for only two fights in 2013, an amount that will probably see him take top spot again?
"Floyd is boxing," Mayweather's business partner Leonard Ellerbe told BBC Sport. "He's the biggest star in the sport by a mile - the numbers don't lie."
What is astonishing is that Mayweather is able to generate such numbers operating within the confines of a supposedly fringe sport like boxing. Behind him in Forbes' 2012 list are golf's Tiger Woods, the NBA's LeBron James, the NFL's Peyton Manning and football's King Midas, David Beckham.
What makes it all the more astonishing is the fact many fight fans think defensive master Mayweather - despite being a five-weight world champion and unbeaten in 44 pro fights - is a bit boring. At least between the ropes.
The American sportswriter Pat Putnam concluded: "Most fight fans would not spend a dime to watch Van Gogh paint Sunflowers, but they would fill Yankee Stadium to see him cut his ear off."
Those who booed Mayweather during his one-sided defeat of Robert Guerrero in May would presumably agree with Putnam's sentiment. Oscar de la Hoya, meanwhile, sees both sides.
"Fighters like Julio Cesar Chavez, Sugar Ray Leonard and Roberto Duran gave fight fans excitement," said the six-weight world champion, whose fight against Mayweather in 2007 holds the record for most pay-per-view buys - 2.44m.
"You got blood, knockdowns and knockouts. So I can understand fans being frustrated when watching a Floyd Mayweather fight, because of the lack of action. It should be about taking risks and giving fans what they're looking for.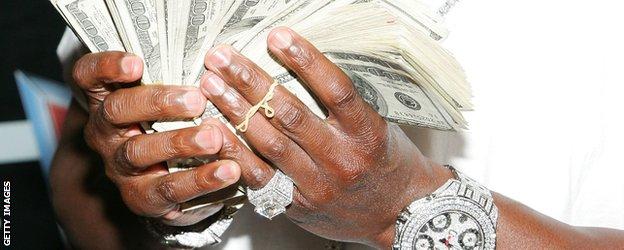 "Then again, that's the genius of Floyd Mayweather: he's been able to figure out a way of not getting hit and winning fights in easy fashion. Boxing is an art form and Floyd has mastered it."
However, De la Hoya contends Mayweather's legacy is likely to suffer because of a lack of credible rivals, or at least opponents able to push him to the limit.
De la Hoya was elevated because of fights against a raft of fellow greats, including Chavez, Pernell Whitaker and Mayweather himself. Mayweather, meanwhile, has not often been stretched during his 17-year paid career.
That Mayweather, now 36, has still been able to thrive at the box office is down to a carefully cultivated public image, which sees him cast as a trash-talking, bling-flashing, $100 bill-burning braggart of the highest order.
"Boxing is business and entertainment and he happens to be blessed with unbelievable charisma," said Ellerbe. "He's the best marketer I've ever seen and that's how he's taken a niche sport and carried it into the mainstream."
"It's not my cup of tea," said De la Hoya, whose avowed distaste for his former foe's methods has not prevented him promoting Mayweather's last eight fights.
"Before we fought he spoke about me personally, he spoke about my family," De la Hoya added.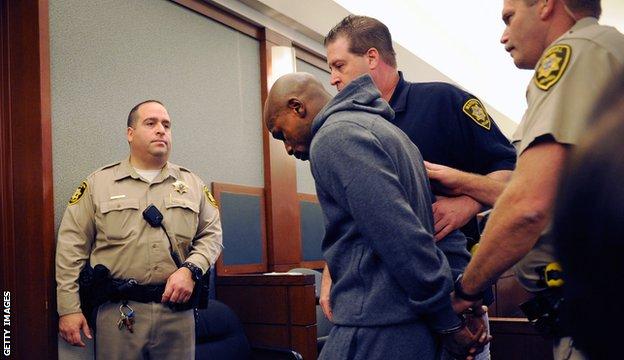 "He was the polar opposite of what I represented when it came to boxing. He was doing all this trash-talking, he was cocky and flamboyant. I didn't like what he represented outside and inside the ring and I wanted to knock his head off."
Millions more wanted to see De la Hoya knock his head off, which is why Mayweather continued mouthing off.
In 2010 he broadcast a racist and homophobic video rant against Manny Pacquiao which led some to conclude he was on the verge of a meltdown, especially since he had no intention of signing for a fight against the Philippine legend. Mayweather said he was "just having fun".
Other facets of Mayweather's personality are even darker. In 2002 he pleaded guilty to two counts of domestic violence; in 2004 he was found guilty of assaulting two women in a Las Vegas night club; and in December 2011 he was sentenced to 90 days in prison for battery upon his ex-girlfriend.
In March of this year Mayweather was seen gyrating his hips in the face of the wife of Cornelius Bundrage as Bundrage fought a Mayweather-affiliated fighter, Ishe Smith. Mayweather was wearing a cap that read: "Money. Power. Respect." Proof that the first two don't necessarily add up to the third.
Apologists point out that Mayweather was the product of a highly dysfunctional upbringing in Grand Rapids, Michigan. His mother was a drug addict while his father Floyd Sr, a former welterweight contender, served time for trafficking.
In addition, members of Mayweather's camp stress there is another side to the man and that he is more in touch with reality than the media make out.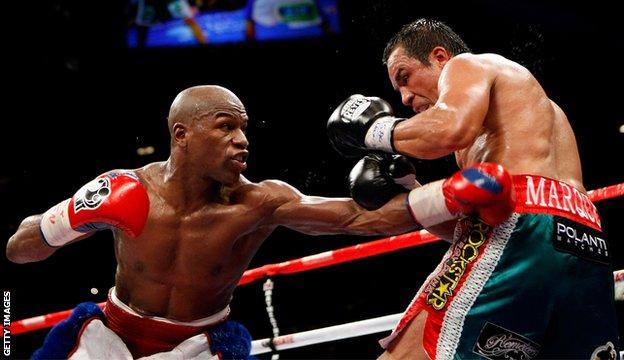 "Floyd's a rock star," says former British light-welterweight champion Ashley Theophane, who is signed to Mayweather's promotional stable and fights Mexico's Pablo Cesar Cano at the MGM Grand on Saturday.
"Whenever you're around him you see TV cameras and journalists and when he's out running he gets mobbed by women and kids. And he comes to the gym in a different car every day, whether it be a Lamborghini, a Ferrari or a Bugatti.
"But to us he's a normal guy. He treats everyone good, gives everyone advice. And watching him train is motivating - he trains so hard it's like he's only just starting out.
"Also, we all mature as we get older and it's good to see the way he is now because little kids look up to him. He's a positive role model."
Ellerbe, who has known Mayweather since he was a teenager and says they enjoy "a wonderful, loyal relationship", argued: "If people weren't criticising him he wouldn't be in the situation he is.
"That's just part of sports and entertainment: if they're talking about you, that's a good and a bad thing."
Unsurprisingly, Mayweather's antics split the African-American community. On one hand he is viewed as challenging notions of black inferiority through his 'money is power' creed; on the other he is viewed as perpetuating a brand of black masculinity that leads to the demonisation of the wider black community.
What complicates the issue further is that Mayweather is the only American boxer of any colour operating in the mainstream, meaning he is out on a limb. Super-middleweight king Andre Ward, conqueror of Britain's Carl Froch, shares some of Mayweather's ringcraft but none of his talent for self-promotion.
This surely explains why so many American boxing fans, and many more around the globe, are willing to overlook his many weaknesses - because they recognise Mayweather as the sport's only crossover star. And perhaps its last.
Could it also be because a section of the American people, circa 2013, are so in thrall to the accumulation of money, conspicuous consumption and the arrogance and brashness that accompanies it that it is able to overlook racism, homophobia and the hitting of women?
Maybe it has ever been thus - or at least since the 1980s, as the mountains of money generated by the anti-heroic Mike Tyson attest to. And it wasn't only citizens of the US that made the so-called 'Baddest Man on the Planet' rich.
"Each to their own, I can't really judge Floyd," said De la Hoya. "He has been selling the fights, attracting the fans and generating the money. He has his own style and it's seen him become master both inside and outside the ring."
"You won't see another Floyd Mayweather," says Ellerbe. "He's the best to ever do it, in terms of his accomplishments, his talent, the revenue he's brought to the sport. A lot more people will appreciate him when his career is over."
If it is boxing at its purist you are after, tune in to watch Floyd Mayweather fight Saul Alvarez on Saturday. Just don't expect much purity beyond the ropes.