Ricky Burns ready for 'a war' against Raymundo Beltran
Last updated on .From the section Boxing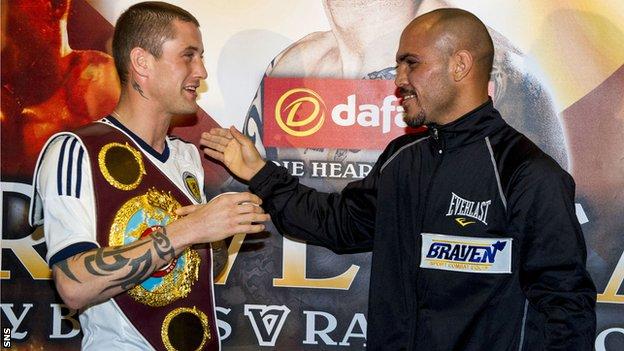 Ricky Burns expects to scrap as well as rely on boxing skills when he defends his WBO lightweight title for the fourth time against Raymundo Beltran.
The 32-year-old Mexican arrives for Saturday's fight in Glasgow with a reputation for brawling.
Burns, 30, said: "He has not been one of the chief sparring partners of [former seven-weight world champion] Manny Pacquiao for nothing.
"He likes to get involved in a bit of a war, but that doesn't bother me."
The champion from Coatbridge is seeking to improve on his last display when he was fortunate to retain his belt.
Jose Gonzalez outboxed Burns for long spells in May and was ahead on points at the Emirates Arena in Glasgow but retired at the end of the ninth round with a damaged left hand.
"You are not always going to get it your own way in fights," said Burns. "But a champion shows that he can dig in and that's what I did and got the win.
"Gonzalez was very good. At one point, I felt my leg going a bit and that's when he pounced on me, had me on the ropes and was unloading on me.
"But I came back with my own punches. I have always said that if I am going out, I will go out swinging and, when I caught him in the seventh, that's when the crowd took the roof off.
"You learn from those fights."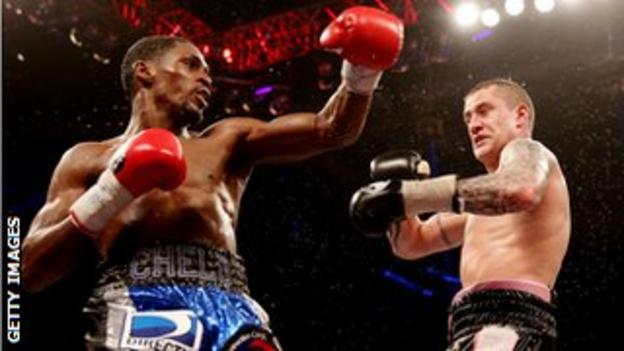 Burns said he knows what he needs to do against Beltran on Saturday.
"First, I need to win and then put on good performance, better than the last one," he said. "There will be times when I have to dig deep and stand my ground."
Beltran will bring experience and power to the ring, but Burns's trainer, Billy Nelson, has been impressed with his fighter's preparation and is confident of victory.
"If the Ricky Burns that has been in the gym the last two weeks turns up on Saturday night, nobody in the world would beat him," Nelson said.
"If Raymundo wants to get involved in a toe-to-toe, we will happily accommodate that.
"But the fundamental thing is going to be Ricky's speed - lightning speed, absolutely lightning. On occasions this week, it has just been a blur that's been hitting the pad."