Walker Cup 2013: United States fight back to lead GB & Ireland
Last updated on .From the section Golf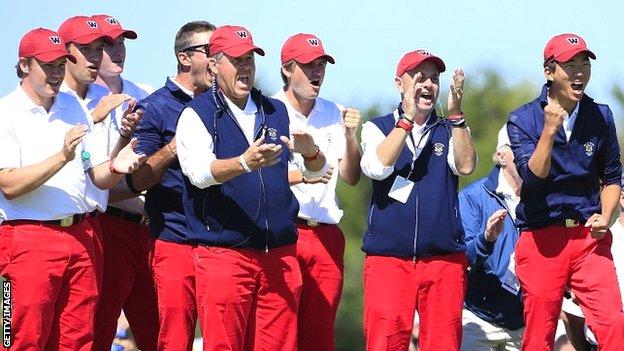 The United States produced a commanding display in the singles to lead Great Britain & Ireland 8-4 after day one of the Walker Cup on Long Island.
But the home side won the first six of the eight singles, losing only one.
The contest concludes on Sunday with a further four foursomes and 10 singles, with the first team to reach 13½ points securing the trophy.
In the opening match at the National Golf Links of America in Southampton, Nathan Kimsey and Max Orrin were ahead on six occasions but Bobby Wyatt holed a two-foot birdie on the last to win the hole and halve the match.
Matt Fitzpatrick, the 18-year-old from Sheffield who last month became the first Englishman since 1911 to win the US Amateur Championship and is the world's top-ranked amateur, partnered Neil Raymond to victory over Jordan Niebrugge and Nathan Smith.
Raymond sent an eagle attempt to three feet and Fitzpatrick calmly rolled the ball in for a one-up victory.
The visitors moved further ahead when Garrick Porteous and Rhys Pugh defeated Michael Weaver and Todd White three and one.
Victory was clinched at the 372-yard 17th as Welshman Pugh hit his wedge approach shot to four feet.
Weaver also hit a fine wedge approach to seven feet, but White missed the birdie attempt and the GB & Ireland putt was conceded.
Patrick Rodgers and Justin Thomas defeated Gavin Moynihan and Kevin Phelan two and one after taking the lead at the 15th and recording the clinching birdie at the 17th when Rodgers struck a 111-yard wedge to six feet.
That momentum continued in the singles as Wyatt came from two down after six holes to beat Raymond 2up.
Max Homa raced to four up by the turn and beat Orrin 5&3, while Michael Kim won three holes in succession to see off Callum Shinkwin 2&1.
Fitzpatrick won the first hole of his match against Weaver with a birdie but three fives on four holes on the back nine allowed the American to move ahead and the match ended on the 17th as Weaver carded a birdie three.
Moynihan claimed the only singles success for the visitors with six birdies against Rodgers, the last of which was inspired by an inventive pitch and run to two feet at the 17th to secure a 2&1 victory.
Foursomes:
Cory Whitsett/Bobby Wyatt (USA) halvedwith Nathan Kimsey/Max Orrin (GB & I)
Jordan Niebrugge/Nathan Smith (USA) lost to Matthew Fitzpatrick/Neil Raymond (GB & I) 1up
Michael Weaver/Todd White (USA) lost to Garrick Porteous/Rhys Pugh (GB & I) 3&1
Patrick Rodgers/Justin Thomas (USA) beat Gavin Moynihan/Kevin Phelan ((GB & I) 2&1
Singles:
Bobby Wyatt (USA) beat Neil Raymond (GB & I) 2up
Max Homa (USA) beat Max Orrin (GB & I) 5&3
Michael Kim (USA) beat Callum Shinkwin (GB & I) 2&1
Cory Whitsett (USA) beat Jordan Smith (GB & I) 1up
Jordan Niebrugge (USA) beat Garrick Porteous (GB & I) 1up
Michael Weaver (USA) beat Matthew Fitzpatrick (GB & I) 3&1
Justin Thomas (USA) halved with Nathan Kimsey (GB & I)
Patrick Rodgers (USA) lost to Gavin Moynihan (GB & I) 2&1