Ricky Burns ' broken jaw puts boxing future in doubt
Last updated on .From the section Boxing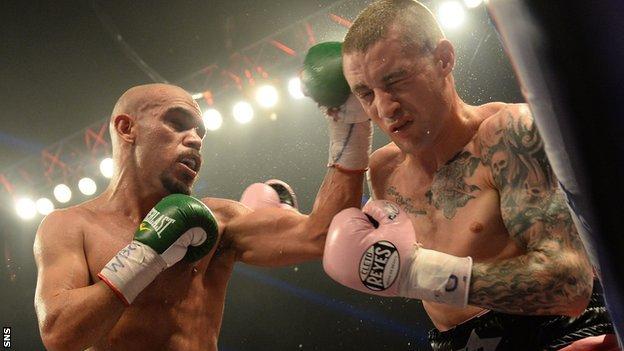 A broken jaw could have put WBO lightweight champion Ricky Burns' boxing career under threat, according to promoter Eddie Hearn.
The Scot, 30, suffered the break in the second round of a title defence against Raymundo Beltran that ended in .
"He underwent surgery this morning," Hearn told BBC Radio 5 live.
"Everyone's talking about his next move. I can't even guarantee he'll box again at the moment."
Many at the SECC, including Beltran, and Hearn, thought that the Mexican had won the fight.
But Burns, who was also floored by his opponent in the eighth round, retained his title but at the cost of having titanium plates inserted into his jaw in hospital overnight.
"It was a horrific injury to suffer," said Hearn. "There have been a few occasions when people have boxed on with broken jaws - I couldn't imagine anything worse - but they are extraordinary people, fighters, and he found the bravery to carry on.
"The doctor, who doesn't know a lot about boxing, was quite astonished when I told him he had boxed for half an hour with a broken jaw.
"He asked if he had taken any shots on it and I told him that was the understatement of the year."
Hearn explained that he had not known that Burns had a problem with his jaw until the end of the fight.
"When I spoke to Beltran last night, he said he could hear him almost crying in clinches where the heads were going in on the jaw - unpleasant stuff, but he's on the mend," he said.
"You look at Ricky Burns and he looks more like choirboy than a fighter, but he's one brave kid and our immediate concern is to make sure that he's okay.
"He'll be in for a couple of days and then we wait and see how it sets and forms and go from there."
Burns, who has now made four defences of the world title he won in November 2011, had himself said on Twitter that he did not know how he managed to last the full 12 rounds.
Hearn does not think Burns will fight again this year and wonders if, when he is fully fit again, the Scot might have to move up another weight.
"I think he does struggle to make the weight," he said. "I don't know whether we look to take him up to light-welterweight and see what's up there for him.
"I do think he is a big lightweight and I feel as if he has looked tired at points in the last two fights.
"So how would he perform at light-welter? That pushes my buttons because it is an opportunity to become a three-weight world champion."
Hearn does not think is likely.
"Morally, a rematch would be the right thing," he admitted. "Politically, financially, will it?
"Top Rank will push for Ricky to fight Terence Crawford as a mandatory challenger. Top Rank also represent Raymundo Beltran. So my gut feeling is no."
Beltran's manager, Steve Feder, agrees, with Burns likely to be matched with Miguel Vasquez or Terence Crawford.
"I can tell my kid that he is the true champion, but Ricky is probably going to walk into Madison Square Garden and fight Vasquez or Crawford.
"Did he earn the right to do that? No, he didn't.
"You could have written about Ray for a year. Now, by next week, no-one will give a damn. That's what's so sad.
"I don't think Ray will be bitter about this. But, unfortunately, I don't think he'll want to come back to the UK."