Ricky Burns: Raymundo Beltran robbed of title, says manager
Last updated on .From the section Boxing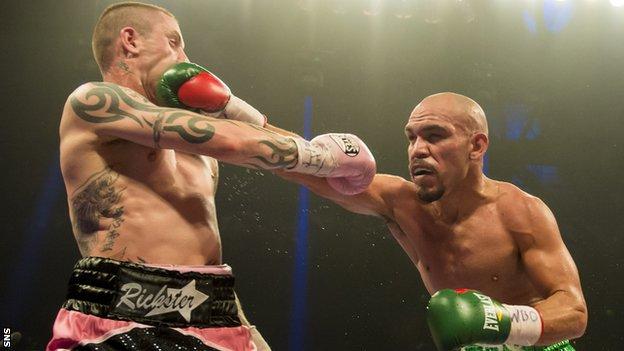 Raymundo Beltran's manager says the Mexican was robbed of victory in a WBO lightweight title fight with Ricky Burns he believes tarnished boxing.
The 30-year-old Scot retained his world title at the SECC in Glasgow on Saturday.
"He was robbed, of course," said Steve Feder of Beltran, 32. "Ultimately, it is a sad day for the sport.
"It is not the only day like that the sport has had. We're corrupting a beautiful sport."
Beltran had Burns on the floor in the eighth round, but one judge gave the Scot the verdict by 115-112, another gave it to Beltran by 115-113, with the third judge scoring it 114-114.
Feder did not blame Eddie Hearn or his promoting team for the decision against Beltran.
"When you say he was robbed, that makes it about us and last night was about boxing and boxing was robbed," he said.
"I don't blame Eddie or anyone at Matchroom. They were embarrassed.
"I think they're gentlemen and they're here because they love the sport. But, if I read them right, they're embarrassed.
"I don't think it sits well with them."
Feder suggested that Burns, who has suffered in the second round, had not wanted to put the title belt on.
"What does that say to you?" Beltran's manager asked. "It says that this guy is a real champion and he doesn't want to be given anything.
"This country should be incredibly proud of Ricky: this isn't about him. Ricky didn't rob us."
Feder suggested it was the kind of decision that was leading to boxing losing fans in the United States to mixed martial arts.
"Why do people get turned off by this sport?" he questioned. "Last night was the reason.
"When it's done right, it is beautiful, but last night tarnished it."