Ricky Burns' draw with Raymundo Beltran leaves fog over boxing

By Keir Murray
BBC Sport Scotland
Last updated on .From the section Boxing73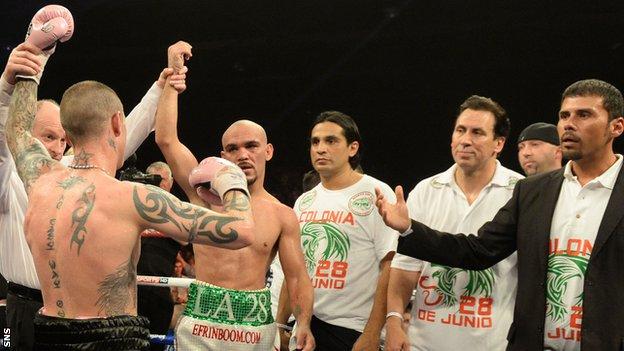 Raymundo Beltran's great dream was to leave Glasgow as a world champion.
The story of Beltran's illegal emigration at the age of 16 from Mexico to the US in search of a better life is compelling.
That he should have established a reputation strong enough for trainer Freddie Roach to invite him to be the great Manny Pacquiao's sparring partner, and that he should get a world title shot late in his career, only adds to the engrossing narrative.
And Beltran's genial conduct in his two weeks in Scotland makes the judges' decision to declare his battle with Burns a draw in the third and final act a tragedy.
At the SECC on Saturday there was drama and theatre, but this was no play.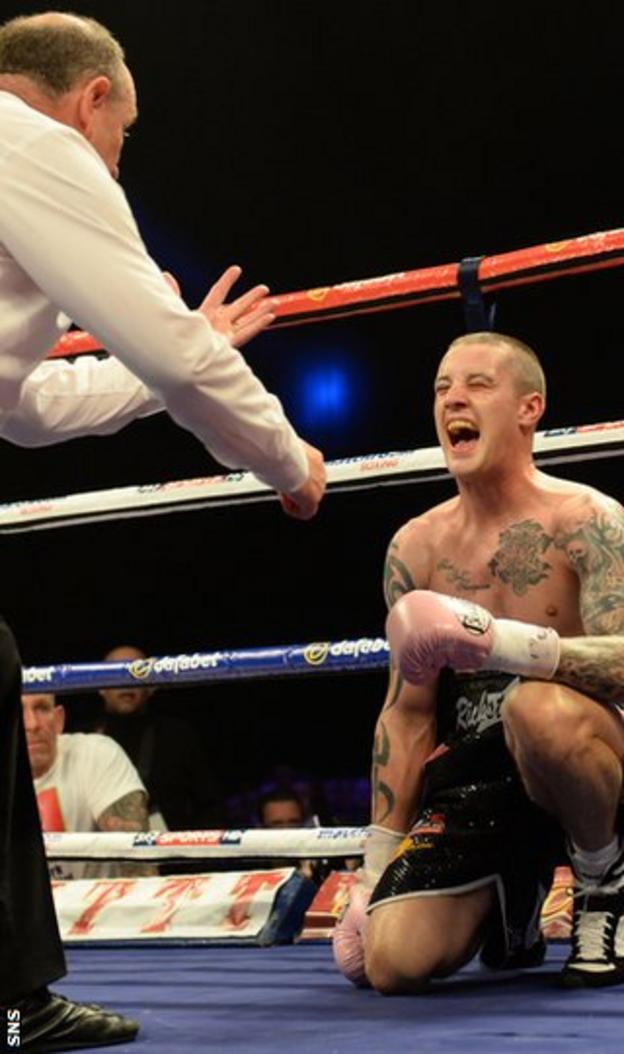 On Sunday, Burns, 30, had a plate inserted in his broken jaw, an injury sustained in the second round of their encounter in front of 7,000 fans.
It will be months before we know what impact the surgery will have on his amazing career.
It is hard to write that a Scottish sporting hero like Burns, who endured unimaginable pain for 10 three-minute rounds following the fracture, should no longer be the title holder.
Yet the truth hurts, though not, one suspects, as much as a broken jaw.
There were half a dozen close rounds where it is conceivable the judges could be swayed by the raucous crowd, but surely not every time.
Beltran was the clear winner in rounds four, five and eight and probably in two of the last three. Furthermore, the powerful left with which he sent Burns to the canvas should have widened the scoring margin.
The Mexican controlled the ring, was the aggressor and landed the more telling blows.
None of this should lessen Burns's standing, though. The judges decided the result, not the Scot.
The two-weight world champion became a father for the first time the week before the bout. Little Leon arrived two weeks beyond the due date after a prolonged labour.
By any standards, that is not ideal preparation for a title defence, his fourth following victories over Paulus Moses, Kevin Mitchell and Jose Gonzalez.
For the second fight in a row he looked below par, with his promoter, Eddie Hearn, citing a struggle to make the 135lb limit and tiredness as possible reasons.
Indeed, Hearn said Burns arrived for his workout in front of the media on Tuesday having had a rough night with the newborn baby.
Burns slammed left hooks into Beltran's body and cracked the challenger on enough occasions to convey that he was going to have to produce something special to rip the belt from his grasp.
American judge Carlos Ortiz scored it 115-112 to Burns. Belgium's Andre Van Grootenbruel rated it the other way, a five-point swing, at 115-113 to Beltran. Richard James Davies had it 114-114.
Fight fans should be disappointed in this trio, not Burns, who leaves everything in the ring and whose exploits have given Scotland's lesser stars a platform on a series of undercards.
In his post-fight media conference, Hearn admitted that he thought Beltran had "nicked it" and that Burns had not hurt his opponent throughout the bout.
"It was one of those where my heart said we probably lost the fight," said the Matchroom promoter.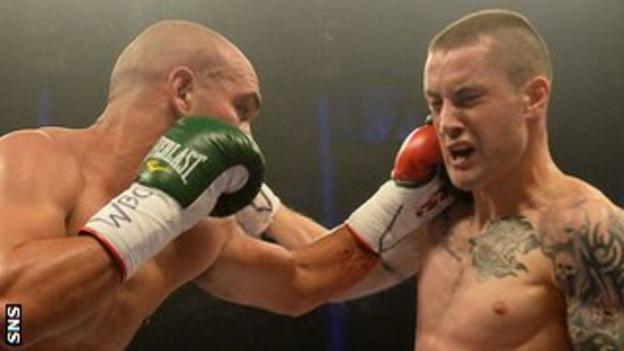 "Sometimes the atmosphere, the occasion, can affect the judges.
"Ricky said he had no idea about the scoring. He said there were four of five occasions when he was up against the ropes and he was 50-50 about turning his back."
Beltran has been on the wrong end of controversial decisions before. He has spoken of his struggle to land big fights without a promoter.
However, having teamed up with Steve Feder at the Wild Card gym, he went on to win a couple of North American titles and push himself into contention for Burns' voluntary defence.
Somehow, Scotland feels tainted by the decision. There was no wild celebration when MC Michael Buffer announced the scoring and the WBO belt was placed around Burns once more; rather, there were gasps.
Fans paid £40-200 for a seat at the SECC. They were left short-changed by the decision, a feeling that echoed in the challenger's camp.
"He was robbed. The least I had it was 115-113," said a composed and articulate Feder afterwards.
"It's a sad day for the sport. Boxing was robbed today.
"The fans were great, they are proud fans right behind a very proud fighter. Both fighters showed tremendous class.
"I think Ricky as a true champion would have lived with a loss tonight.
"I think he would have had a rematch, we could have brought him to the States.
"It would have been great for his career, great for Raymundo's career, but, more importantly, great for boxing."
In civilised societies, where there is evidence of a miscarriage of justice, there is a retrial. But this is boxing and a rematch looks unlikely.
"Ricky's is a bad injury," said Hearn. "I can't see him fighting this year.
"He never asked me if I thought we'd got it. That tells you how much pain he was in."
It may also suggest that Burns himself thought his title was gone. A period of recuperation and time to enjoy his baby son follows.
A future at light-welterweight? Retirement? Both are possible.
For Beltran, it appears that only the fog that surrounds boxing's decision-makers has prevented him completing his epic journey from Los Mochis to boxing's summit.
For the sport's sake and for his, let's hope it clears.