Floyd Mayweather Jr says track record key to beating Saul Alvarez
Last updated on .From the section Boxing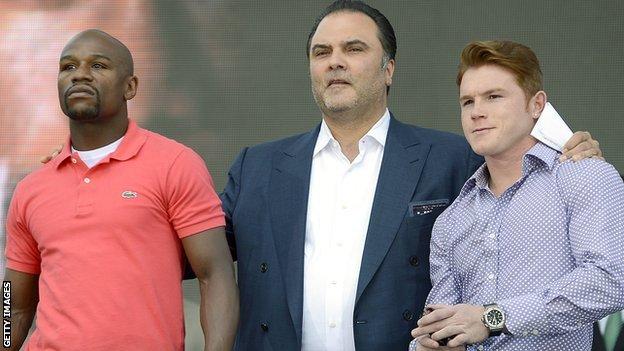 Floyd Mayweather Jr says his track record will prove pivotal in Saturday's light-middleweight unification fight against in Las Vegas.
Mayweather has won all 44 of his fights, while Mexican Alvarez, 23, has 42 wins and a draw from 43 contests.
"When you bring the two together then it is a very interesting match-up," said the 36-year-old American.
"I've got a lot more experience than he has at this level. I think that is going to play a major key."
Mayweather, who has served two months of a three-month prison sentence for domestic violence, returned to the ring in May when he beat Robert Guerrero on a unanimous points decision.
That contest was the first of a television deal involving six bouts in 30 months for Mayweather, who is fighting twice in a year for the first time since 2007.
He will reportedly earn a £29.1m ($45.7m) purse for the Alvarez match-up at the MGM Grand, and he is also set to get a share of the television income generated by pay-per-view sales.
Alvarez, meanwhile, is set to earn about £6.4m ($10m) for the bout, which brings together the WBC and WBA titles.
"I feel like I am the best," said Mayweather. "I'm dedicated to what I do and I feel no fighter works harder than me.
"I've been tested. I've been in there with guys that punch hard and every time I go into a fight people say 'it's going to be this guy [to beat you] or that guy'.
"We'll just have to see. To me they are all just the same - an opponent in front of me."
"Alvarez is a young strong champion. He represents Mexico well. He's hungry, he's dedicated to his craft."
Alvarez, nicknamed "Canelo" or "Cinnamon" because of his distinctive red hair, made his professional debut aged only 15.
"I can't say anything bad about Floyd," he said. "He's the best and he's accomplished so much.
"But everybody has his time, and this is my time."
The fight is being promoted by Oscar De La Hoya's Golden Boy Promotions but the former boxer, who won 10 world titles at six different weights, will not be in attendance because he has returned to rehab to deal with a substance abuse problem.
"I will not be at the fight to cheer Canelo to victory since I have voluntarily admitted myself into a treatment facility," said De La Hoya, 40, in a statement.
"I explained this to Canelo and he understood that my health and long-term recovery from my disease must come first.
"I ask for your support and privacy during this difficult time for me and my family."