Floyd Mayweather v Saul Alvarez: 12,000 attend Las Vegas weigh-in
Last updated on .From the section Boxing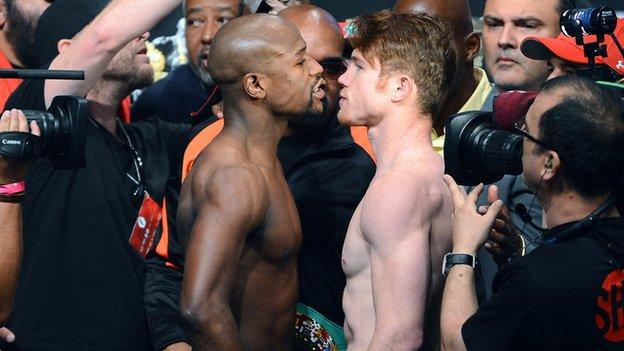 Unbeaten Mexican Saul Alvarez says he will enjoy the whole of his country's backing as he tries to end American Floyd Mayweather's unblemished record.
More than 12,000 fans attended the WBA and WBC light-middleweight title fight weigh-in at the MGM Grand in Las Vegas.
"There is no pressure whatsoever - it is motivating to have all of Mexico rooting for me," said Alvarez, 23, ahead of potentially the richest pay-per-view card in boxing history.
Sunday's fight starts around 04:00 BST.
Alvarez added: "It truly is a pleasure to be a part of this, I appreciate all of the support for this fight. "
"I want to thank my team for working hard with me. On Saturday night, I will be victorious."
For the first time in its history, the arena was opened for the weigh-in, reflecting the magnitude of the fight.
Promoters Golden Boy hope two million US households will pay up to $74.95 (£47.20) to see the fight, making it the world's most lucrative pay-per-view event.
Despite 36-year-old American Mayweather being favourite to add a 45th straight professional victory, Alvarez is confident of his tactics.
"When you fight Floyd you have to be ready for every aspect of a fight. You have to be able to adjust mentally as well as physically. I have to be very, very smart," said Alvarez, who has won 42 of his 43 fights, with the other being a draw.
"We've prepared like never before. Floyd is a fighter who throws five punches a round and he lands them, that's why he wins rounds. But we're prepared for that - we're prepared for everything."
Mayweather, who will fight twice in the same calendar year for the first time since 2007, is guaranteed a record £26.4m purse, while Alvarez is set to pocket £7.9m.
The richest fight in history is Mayweather's 2007 victory over Oscar de la Hoya, which was bought by 2.7 million homes.
Mayweather has dismissed Alvarez as "another stepping stone" in his career.
"I'm not focused on the money or anything," said Mayweather. "I'm focused on going out there, performing well and giving the fans what they want to see - it's about excitement."
Alvarez weighed in at the catch-weight limit of 152lbs, while Mayweather came in at 150.5lbs.