Floyd Mayweather 'dislocated elbow' in Saul Alvarez win
Last updated on .From the section Boxing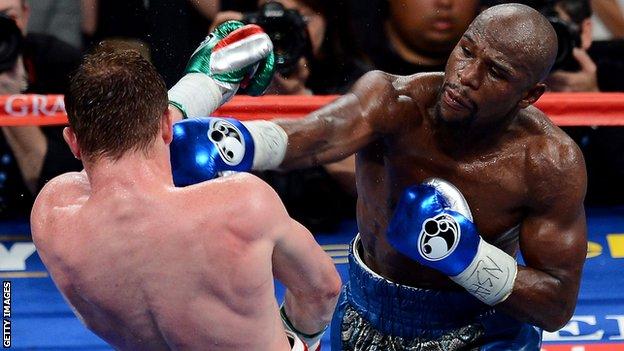 Floyd Mayweather says he suffered a suspected dislocated elbow halfway through his one-sided defeat of Saul Alvarez in Las Vegas.
The five-weight world champion, 36, secured the WBC and WBA light-middleweight titles and stretched his unbeaten professional run to 45 fights.
"I think I dislocated my elbow. I looked at my children and thought 'I can't give it up'," the American said.
Coach Floyd Mayweather Senior wants his son to fight Britain's Amir Khan next.
The fight, which the judges scored 114-114, 116-112 and 117-111, saw Mayweather pocket upwards of £21.6m - a world record purse.
"My dad said 'Go out there and do what you do best. You go for this'." said the American.
"When I came back to the corner he said 'You are fighting a little tight, loosen up a little bit'."
"I started throwing combinations a little bit more and then we bumped arms. That's when I dislocated my left elbow, so for the sixth and and seventh round I was pawing with the jab.
"When I came back to the corner I looked at my family and thought 'I have to use it, because I have got the will to win'. I was born to win and am going to die to win."
Many tipped the previously unbeaten Alvarez, 23, to cause his opponent problems and, despite the ease of victory, Mayweather believes the Mexican will progress to be a "great" of the sport.
He said: "I want to commend this young, strong champion because he will carry the torch. Tonight experience played a major key. He has got everything it takes to be a legend in the sport, tonight was just my night.
"It was an up-and-coming champion versus a legendary champion. Some day he will go down in the hall of fame, some day I will go down in the hall of fame.
"When I was young I beat all these fighters and I was partying every night and beating world champions. But it was around 2007 when I fought Oscar De La Hoya and started staying in the house a lot and concentrated more on my job, which was boxing.
"Normally training camp was 'we go to the gym, we go shopping, we go to the club, we go to the strip club'.
"That was when I was young. Now I am older things change. I am more of a homebody."
Mayweather has four fights remaining in a reported $200m (£126m) contract he signed with US network Showtime in February.
In two fights in 2013, he has now earned $73m (£46m), making him the highest-paid athlete in the world for a second successive year.
Although his father called for former world champion Khan, 26, to be his next opponent, Mayweather insisted he was keeping his options open.
"I don't know what the future holds," he said. "I look to fight in May and again in September and then again May and September.
"I need a vacation. I haven't taken a vacation in four or five years."