Tyson Fury wants rearranged fight with injured David Haye
By Jimmy Smallwood
BBC Sport
Last updated on .From the section Boxing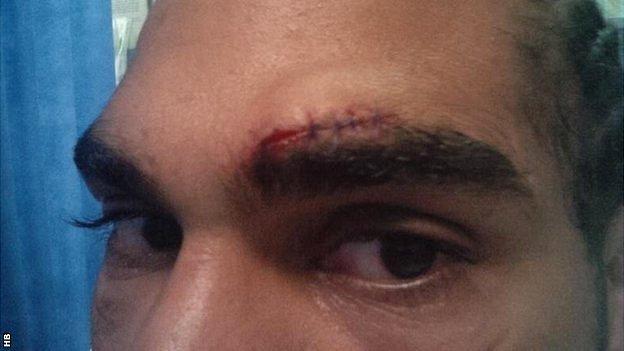 British heavyweight Tyson Fury wants to rearrange his fight with David Haye, telling promoters to "make it happen".
After initially suggesting the fight would not be rescheduled, Fury later tweeted his intention to find a new date for the pair to meet.
"Get this clown of a fighter back in the ring with Tyson Fury," he said.
Haye, 32, was forced to announce his second successive career postponement on Saturday, later releasing an image that showed a cut and stitches above his left eye.
The Londoner said the injury was sustained in the final sparring session before the heavyweight clash, and that he felt "devastated" that the fight had been cancelled.
"I know injuries and cuts are part and parcel of our sport, but this doesn't change the feeling of disappointment and sadness I'm experiencing," he added.
However, the Fury camp have expressed frustration at the turn of events.
Chris Farnell, a sports lawyer who represents Fury, told BBC Sport: "There are serious doubts as to whether Haye actually wanted this fight with Tyson or not.
"Haye has said his injury was caused by sparring. Well, I'm not sure how many professional boxers so close to a fight spar so heavily.
"He's sustained this huge cut on his eye. So he didn't have a headguard on? Or if he did have one on, how did he get caught with such a big punch?
"There are frustrating questions that we are forced to ask as a result of the excuses we're being given.
"It's a fact now - the fight has been delayed. It all seems rather convenient to us, to be honest."
Representatives of Haye were unavailable for comment when invited to respond to Farnell's questions on Sunday.
Farnell also confirmed that he hoped negotiations between the two parties regarding a possible rescheduling would begin in the next 24 to 48 hours.
Peter Fury, uncle and trainer of Tyson, also tweeted his intention to rearrange the fight for later in the year: "Let's get it back on. Looking to put Tyson on this year to keep busy.
"To all the fans - if you want the Haye fight to happen then we'll go for it again. Let's get the fight back on. We'll make it happen."
Fury would have put his unbeaten record on the line at Manchester Arena with Haye being the bookmakers' favourite, having lost only two of his 28 paid fights, most recently against Wladimir Klitschko in a world heavyweight unification bout in 2011.
Fury, who beat American Steve Cunningham in April to move to 21 fights unbeaten, turned down a bout against Bulgarian Kubrat Pulev that could have earned him an IBF world title shot against Klitschko in order to fight Haye.