George Groves appoints Paddy Fitzpatrick as trainer
Last updated on .From the section Boxing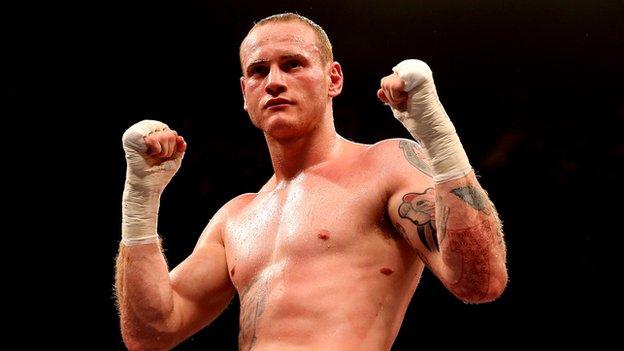 Super-middleweight George Groves has appointed Irishman Paddy Fitzpatrick as his new trainer.
The 25-year-old parted company with Adam Booth recently following a five-year working relationship.
Groves is due to fight for the WBA and IBF world title against Carl Froch in Manchester on 23 November.
Fitzpatrick has worked in Groves's corner for a number of his previous fights and has also worked in David Haye's corner.
"Paddy and I have worked closely together in the past and already have a very good relationship, one built over many years," said Groves, the former British and Commonwealth super-middleweight champion.
"Not only has he worked my corner for important fights, we have also spent a lot of time together when abroad on training camps, where Paddy has overseen a number of significant sessions.
"Although this is a fresh change for me, I'm working with someone I know and respect, and someone who knows my game inside out. We both know how the other works, so it won't take long to hit the ground running.
"His experience and knowledge of the game is world-class and he is, without doubt, the perfect trainer to help me prepare for my next fight. He has a great energy, both in the gym and on fight night, and I feel totally comfortable in his presence."