David Haye and Tyson Fury fight rescheduled for 8 February
Last updated on .From the section Boxing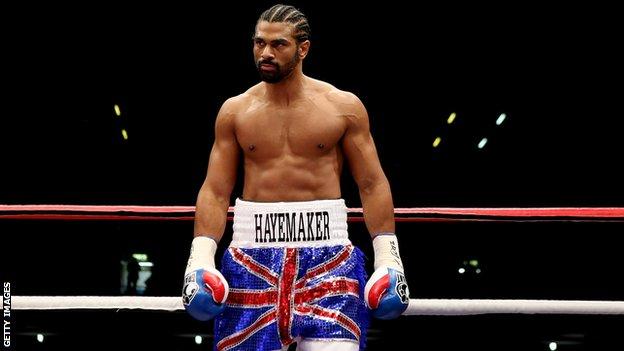 British heavyweights David Haye and Tyson Fury will now fight each other on 8 February in Manchester.
The duo had been due to meet on 28 September, but Haye pulled out after sustaining a cut on his head, which needed six stitches, in sparring.
He says he is relieved a new date has been arranged so quickly.
"News of the date in February is music to my ears. I was absolutely devastated this weekend and felt as though I'd let a lot of people down," Haye said.
"My fans will still get the chance to see what they all wanted to see this weekend. They'll get to see Tyson Fury sparked out in a spectacular fashion."
Fury called former world heavyweight world champion Haye "a clown" in the wake of the postponement.
Chris Farnell, a sports lawyer who represents Fury, told BBC Sport he questioned Haye's decision not to use a head-guard in sparring.
But Haye has deflected any criticism and says his desire to "expose" Fury has been strengthened for the rescheduled bout.
He added: "These things sometimes happen in training and to suggest I decided against wearing a head-guard, or that the cut was premeditated, shows a clear lack of knowledge and understanding.
"Tyson Fury might start to get brave now that he's received a stay of execution and he might call me names and accuse me of ducking him, but that will all be short-lived, I can promise you.
"After hearing the nonsense he has come out with in the last few days, I'm even more determined to expose him in front of millions.
"And only the possibility of getting another chance to land punches on his massive head and doughy gut has helped cheer me up."