David Haye says ring rust no issue after Tyson Fury delay
Last updated on .From the section Boxing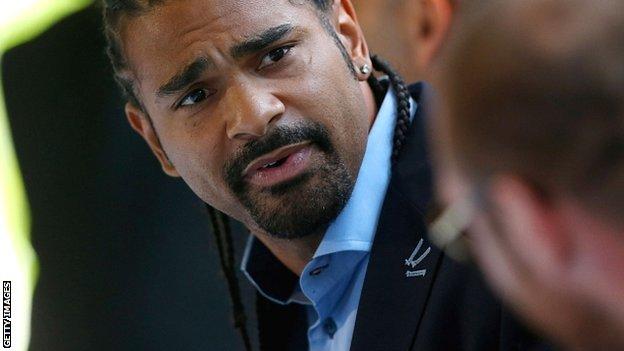 David Haye has scotched suggestions he will be hampered by ring rust when he finally meets British heavyweight rival Tyson Fury in Manchester on 8 February.
"People are saying, 'You will have been out of the ring for almost two years come the fight'," Haye told BBC Sport.
"But as far as I'm concerned it's an easy fight. As soon as I hit him on the chops the fight is over."
Haye has not fought since a knockout of Dereck Chisora last July and has fought only twice since 2010.
He added: "I was looking forward to a relaxing Christmas but business is business and a tough Christmas is soon upon me.
"I won't be able to get punched in the eye for six to eight weeks but I'll keep ticking over in the gym. I've got the discipline to stay in London and do what I need to do."
Haye, 32, responded to charges of carelessness and suggestions from some quarters that he does not want to fight 25-year-old Fury.
"If people knew how vain I was, they'd know that having a big gash across my forehead isn't something I'd do purposely," said Haye, a former two-weight world champion.
"For people to insinuate that I headbutted the wall to get out of this fight is ridiculous.
"I've heard people say: 'Why was he sparring so close to a fight?' Most world champions spar up until that point, Carl Froch spars even closer to a fight.
"I wouldn't have signed for the fight if I didn't want it. I could have gone a million different ways, this fight doesn't mean anything to me.
"I didn't even want to be thinking about Tyson Fury in 2014, 2014 was meant to be all about getting a world title shot.
"But I can't be crying about it. George Foreman got a cut in one of his final sparring sessions before the 'Rumble in the Jungle' and the fight was delayed six weeks, it just happens in boxing."